Discography
In case you hadn't heard, Beyoncé's Lemonade is good. As in, really really really good. I've enjoyed singles from here and there- "Crazy In Love" and "Irreplaceable" in particular- but before Lemonade, I'd never listened to a Beyoncé album and then immediately started it from the beginning again (I'm not sure I've actually ever listened to a full Beyoncé album more than once).
There is something about major artistic statements that, for me at least, re-frame the other work of the same artist. Now that Beyoncé has Lemonade I'm interested in going back and hearing her movement towards this point. Early singles like "Say My Name" about calling out a cheating boyfriend become significantly more interesting when you know this is a theme she is going to come back to in a big way in the midst of a marriage and after having a child.
This has happened before. I didn't have any thoughts on Green Day one way or another, but when American Idiot came out there was suddenly an interesting momentum to their discography from goof-offs to political activists. The early Beatles albums are good, but they become better when you know they are leading up to Revolver and The White Album.
The opposite can happen, too. There are artists whose early work I love, but mediocre later releases cast a shadow over them. If this goes on long enough, I start to lose interest in their earlier work, as well.
Then there's artists who have bouts of mediocrity but come back with something interesting enough to make going through their other work interesting. The Rolling Stones fall into this category for me. I have little interest in Goat's Head Soup but there's enough interesting stuff before and after that it's a worthwhile pit-stop.
Of course, you can always skip the mediocre moments and go right for the good stuff. That's why greatest hits albums are so popular. But with the deaths of Bowie and Prince this year I've re-discovered the joy of going through the entire catalogue of a talented artist, even at the moments they aren't churning out their best work. It's interesting to hear them grown and evolve and take detours into territory that maybe wasn't the best idea. Just like a good album is more than just a bunch of good songs, a good discography is more than a bunch of good albums. It ebbs and flows and tells a bigger story than any of its individual parts.
PS. I put out a newsletter that has posts like this plus links to other things I like. You can subscribe here but only if you want to.
The philosophy of parks
What do our abandoned playgrounds say about who we were- and who we are?
Prince George used to have more tennis courts per capita than any other city in Canada.
There are a number of theories for why this is. One is that Desmond Park, the city planner  in the 60s and 70s, was a tennis fan himself and so when he was adding new subdivisions he made sure a court was included. Another is that the federal government had a lot of grant money to give towards tennis at the time, and the city was happy to take it.
*  *  *
Looking at parks is an ideal way to gain insights into a city's history. In the 70s people in Prince George loved tennis, and so a lot of tennis courts were built. Today, they don't, and grass grows through the broken pavement of places where the game is no longer played. In 2013, city council voted to reduce the number of courts it maintains from 63 to 34. Priorities changed.
Along with tennis courts, neighbourhood parks had a major boom in the 60s and 70s. The design philosophy of the time was that everyone should be able to walk to a nearby playground, and so neighbourhood parks popped up everywhere. The smallest, known as tot lots, were basically squeezed onto whatever leftover green space could be found.
Malaspina Park in College Heights is the perfect example of a neighbourhood park. There's a playground with a merry-go-round, slide, monkey bars, teeter-totter, and swings. Beside that, a ball diamond, another popular sport of the decade.
Prince George is no longer the boomtown it was when the park was built. At the time it was on its way to being the second-largest city in the province, and every expectation was it would hit 100,000 by the 21st century. Instead, the population stagnated at around 80,000, and in recent years has been slowly declining. Its residents are aging and as schools shut down, new seniors' residents open.
The merry-go-round in Malaspina was once the sign of a neighbourhood full of children and families. Today, it sits at a twenty degree angle, layers of paint built up over forty years rubbed away. Rather than hosting a game among friends, the ball diamond is being used as an impromptu enclosure for a woman playing fetch with her dog. The space is being adapted and reclaimed by its lack of use.
 *  *  *
Which isn't to say there's no demand for kid-friendly playgrounds anymore. A fifteen-minuted drive and I'm in Duchess Park, the newly-built destination park in the Crescents neighbourhood, just outside of downtown. You can see the new design philosophy here- artificial turf is on the ground. Instead of the metal of Malaspina, this playground is plastic. Nothing spins too fast or goes too high. There are tennis courts nearby, used by the adjacent high school, but there's also a small BMX track. Right now, a group of toddlers are running over the jumps and hills.
The first person I talk to is a father of two who lives closer to Malaspina Park than he does to here. He comes here twice a week. He'd like to go to a playground near his house but… well, I've seen the state of Malaspina. The next person runs a daycare near Rainbow Park, another playground with metal and a merry-go-round. The third person came here from the Hart with her son. She also wishes something like this were closer to home. Instead, she makes the drive.
*  *  *
Times are changing, and so are parks. The city has launched a series of public meetings, online survey, and app in order to figure out what people want out of their green spaces today. Should the merry-go-round of Malaspina be fixed, replaced with a plastic playground, or abandoned all together? How much are we willing to pay so people don't need to drive in order to access a Duchess-style park? Tennis courts, dog runs, or skate parks? Every one of these questions speaks in some small way to our interests and values, what we think a city should look like and be navigated. The result will be another layer of history, a clue about who we were for residents walking around forty years from now.
Note: I also did an audio version of this story with interviews. Listen to it here. 
Birdman, co-founder of Cash Money Records and fifth-richest man in rap, lived in Prince George until he was seven
So here's an interesting tidbit: it turns out Bryan "Birdman" Williams, millionaire rapper and CEO of the record label that is home to Drake, Nicki Minaj, and Lil Wayne, has a secret childhood right here in Prince George, British Columbia, Canada.
The revelation came during an interview with Angie Martinez on New York station 105.1 FM.
Update: Birdman has responded to this story on Instagram- details at the bottom of the post.
Martinez asks about mentors growing up when Williams- who has also gone by the name Baby- starts talking about being raised by his neighbourhood and his secret past in Canada (it begins at 13:52 in the video above):
Birdman: Everybody liked me because I was one of the kids that ain't had no momma, no daddy, just in the streets van wild

Angie Martinez: Since what age?

Birdman: My mom died when I was two, my pops died when I was five.

Martinez: And then so then who was in your- was your grandmother? 

Birdman: Nah, I never had no

Martinez: So who was in your house

Birdman: Uh, I had a stepmother, but… I was living in a boy's home until they was able to come get me, but um… you know, the streets raised me, the block, the neighbourhood. I have like ten brothers and twelve sisters, so, I can go to anyone of them… but, um, the streets raised me.

Martinez: Since that young?

Birdman: Yeah.

Martinez: That's- we NEED a biopic

Birdman: I felt like, it's just time, I would like to show

Martinez: And we see that all in the biopic?

Birdman: Yep.

Martinez: Wow. So do you go back to like where you were, and

Birdman: I went back to as much as we could trace. You know, um, I lived in Canada for a few years, my sister took us–

Martinez: Who are you, what? Anybody know that?

Birdman: Nah, I never spoke on my past… I never really wanted to, cause it was–

Martinez: Why were you in Canada? Were you hiding out?

Birdman: My sister took us away, right? My momma passed, my uncle came down, and she decided to just take us, drive us to Canada. So we stayed in Canada for like two, three years?

Martinez: Wow. Where?

Birdman: Um, Prince George.
Williams says he stayed in Canada until age seven or eight, which means he would have been here from roughly 1973 or 74 until 1976 or 77. At that time Prince George was a fast-growing logging town, on its way to being the second-largest in British Columbia and, purportedly, the city with the most millionaires per capita in the country.
Williams would also go on to be a millionaire, but not before some hard times. He moved back to his hometown of New Orleans and lived on the street and in jail before founding Cash Money Records in 1991. The label went on to be one the most influential in hip-hop, signing acts like Lil Wayne, Drake, and Nicki Minaj. According to Forbes, in 2015 he was the fifth wealthiest man in hip-hop (just behind Diddy, Dr. Dre, Jay-Z and 50 Cent), with an estimated net worth of $150 million.
The Canadian angle in Williams life hasn't previously been disclosed- he says not even label mate and noted Canadian Drake knows about it.
Williams has also said he is working on a biopic about his early life, though it is unknown if his time in Prince George will be included.
I have sent an email to his publicist for more details about this part of Williams' life, but in the meantime…
Do you know anything about Bryan "Birdman" Williams' life in Prince George? Email me andrew@kurjata.ca or on twitter @akurjata.
UPDATE: There is now a CBC News story about this. Liam Britten takes full credit for incorporating the names of Birdman songs into it.
UPDATE 2: Birdman has responded to this story! He posted a link to the CBC story on Instagram and wrote:
"🔥Summer thank you CBC news British Columbia Canada I appreciate Tha love Tha life was a real experience livin in Prince George I will always honor and respect"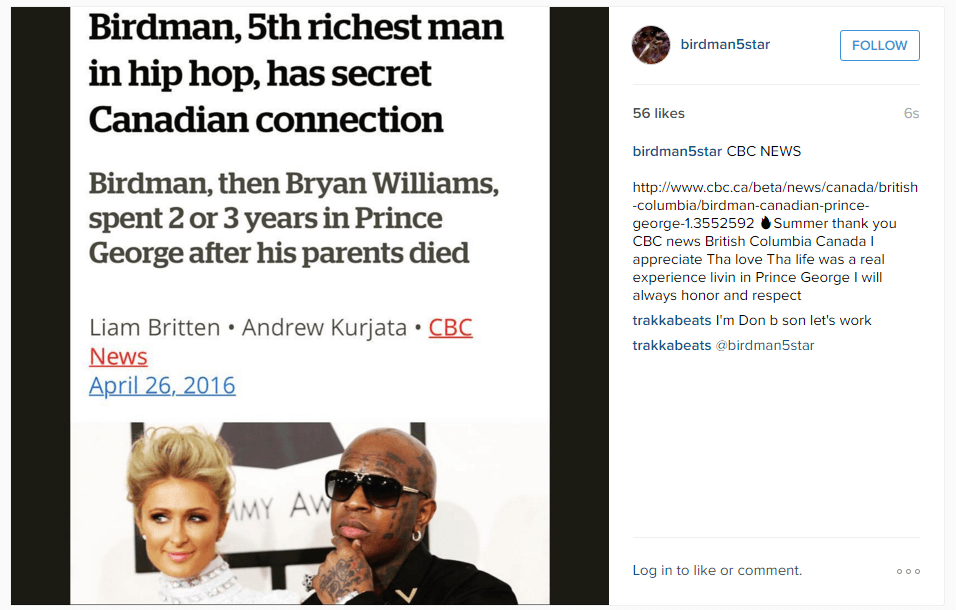 I left Vancouver – and I feel fine
Have you heard it's expensive to live in Vancouver? It is, and the exodus is on. Last year, Eric Karjaluoto wrote about his love affair with the city over two-and-half decades… and why he's considering leaving.
"A lot has changed in the 13 years since I moved away from Prince George. At that time, you needed to be in close proximity to your clients, to be available for in-person meetings. I hardly ever meet with clients any longer. In fact, most of our work is remote, and none of our clients care where we are. Our opportunities come from what we've done, and what we can do, not due to the city we work in."

"I know this next comment will get me in trouble, but that doesn't make it any less accurate: Vancouver isn't really a creative city, anyway. It's a picturesque city made up of glass shoeboxes—but a creative hotbed? I'm not so sure."
Fast forward four months and he's posted a series of interviews with people who have already left the city and how they're doing.
Right now, a lot of discussion is on how to make the desirable Vancouver more affordable. I suspect a more successful tact for the province would be on making the affordable cities more desirable. So it's interesting to hear from people who have decided to leave about what they like- and dislike- about life outside of the Lower Mainland.
Molten butter attacks in B.C. prisons prompt demands for more guards
→
A story I've been working on for a while.
"They're heating up butter mixed with sugar and bleach in the microwaves to extreme temperatures and throwing it in the face of their targeted inmate," said Purdy, a vice president at the B.C. Government Employees Union.

"It's heated up for sometimes 10 or 15 minutes to the most extreme temperatures where it's just bubbling.

"If it hits someone in the face, it actually will offer such severe burns that the face starts to disfigure or almost melt."
This has actually been happening for years. The new part is a WorkSafe report into the Prince George Regional Corrections Centre ordering reduced microwave access:
"This report is regards to the issue of inmates using microwaves to heat butter and other condiments to a scalding temperature and using the mixture as a weapon against staff."
Anyway, full story here and the audio version here.
"electric word, life, it means forever and that's a mighty long time"
Having access to my Prince albums is about the only reason I use a Google Music account (you can upload your own albums, most Prince songs aren't streaming anywhere except Tidal- not even YouTube).
I think I discovered Prince by buying his "Hits/B-Sides" compilation at a second-hand store. One of my most unpopular opinions was the belief that his catalogue had more depth than Michael Jackson. Not that it has to be a competition, but it's the sort of conversation that comes up at parties with music fans.
Most people know "Purple Rain" and "When Doves Cry" but beyond that it seems like he never quite crossed over to the level of knowledge that he should of – even hits like "Little Red Corvette", "Raspberry Beret", "Kiss", "Nothing Compares 2 U"- somehow people just don't associate them with Prince. I think my personal favourite is "Let's Go Crazy." Or "I Could Never Take the Place of Your Man". Or "Musicology". Or…
Anyways, I'm glad I have his music. It's on blast this morning.
Links: Read more →
Record highs
It was 23.6°C in Prince George yesterday, breaking a 103-year-old record of 21.1 in 1913.
Meanwhile in Fort St John a record set in 2010 of 19 was annihilated, as temperatures hit 28.2. And this happened.
So, yeah, mixed feelings on that one.
* Views expressed in this blog are my personal opinion, and do not reflect the views of any of my
employers,
clients,
or pets.
Full Disclaimer→

Original content is licensed under a
Creative Commons Attribution-NonCommercial-ShareAlike 2.5 Canada License.

For more information visit http://andrewkurjata.ca/copyright.

Powered by WordPress using a modified version of the DePo Skinny Theme.
Back to top