Saskatoon Berry Appreciation Thread
Note: I keep reminding myself that although Twitter and Facebook are great I should remember to put stuff on here. It's a heck of a lot easier to go back through a blog and find some old post or idea you were playing with. Anyways, here's one from Twitter, July 23.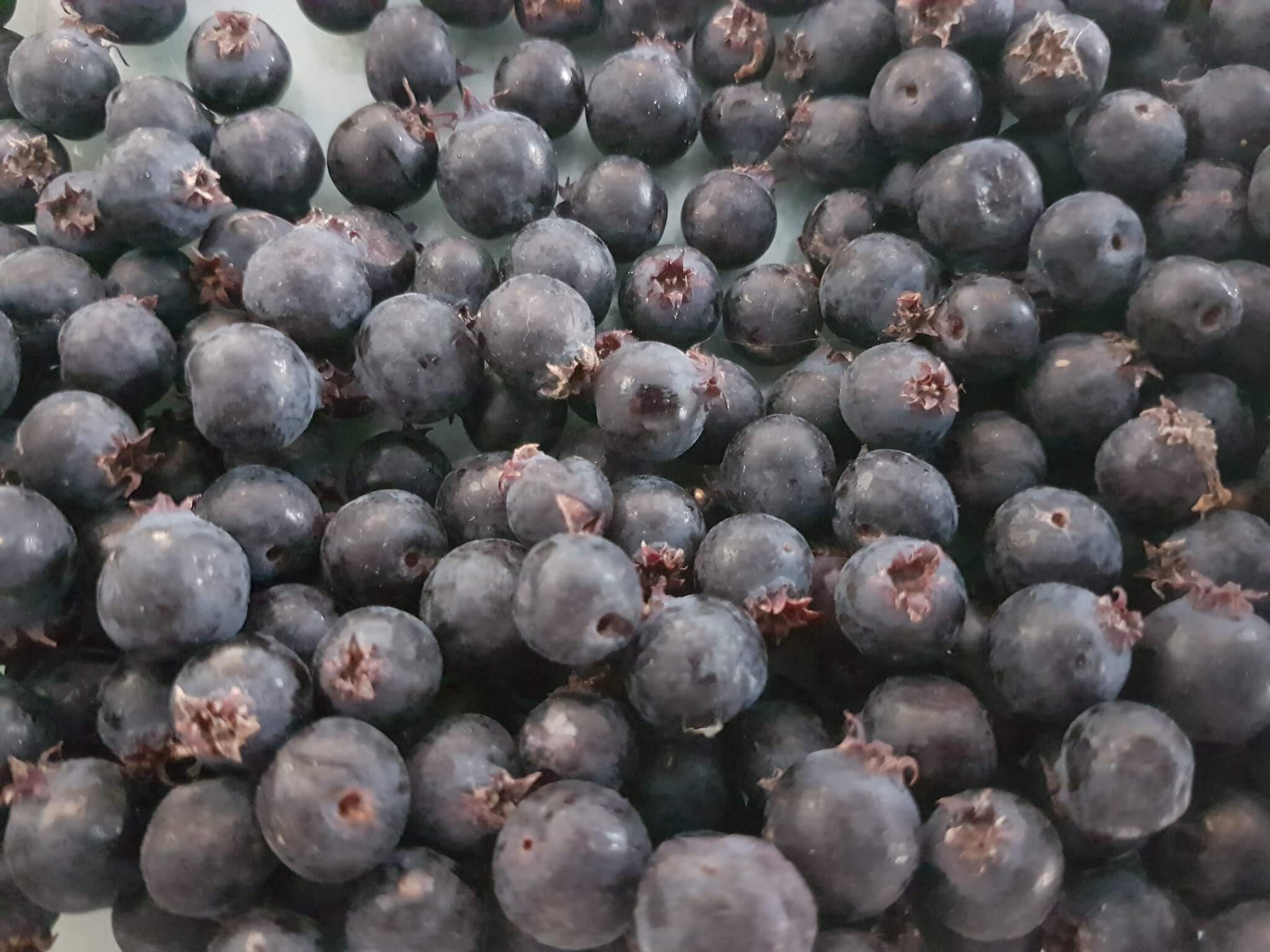 One thing I like about Saskatoons is how many ppl don't know about them. They usu. aren't sold in stores so only foragers learn about them
They grow all over the place (in places they grow). Around town right now you see people pulled over on major roads with buckets of them
They grow at a height you can pick while standing, and they don't have spikes. If there is an easier berry to harvest, I've yet to meet it
Similarly prepping them is super easy. Rinse them under water and they are good to go- pies, pancakes, jam, whatever you want
People claim you have to take special steps to freeze them but it is untrue. I have just thrown a bucket in the freezer and they're good
The name is derived from the Cree word "misâskwatômin" and the city of Saskatoon is named after the berry, not vice versa as I used to think
People who appreciate Saskatoons are people who appreciate the world around them, not just what comes pre-packaged in stores
In conclusion, Saskatoons are great and you should all eat them
bridget moran
So there's been some talk about statues recently and I took a look at the ones we have in Prince George. The first is of Terry Fox, because before he did his famous cross-country trek he ran in a marathon here.
The other is of Bridget Moran, a social worker and author whose Wikipedia entry includes the following:
"In 1964 the provincial government suspended her, along with four other social workers, for their public criticisms of child welfare services, including an open letter to Premier W.A.C. Bennett (Social Credit party)."
And one of her books is described thusly on Amazon:
"An engrossing look at the investigation into the hit-and-run death of Coreen Thomas, a young Native woman in her ninth month of pregnancy, at the wheels of a car driven by a young white man in central BC. The resulting inquest into what might have been just another small-town tragedy turned into an inquiry of racial tensions, both implicit and explicit, that surfaced not only on country backroads but in the courtroom as well, revealing a dual system of justice that treated whites and aboriginals differently. First published in 1990, Judgement at Stoney Creek has been hailed for its moving and deeply personal depiction of a controversial subject that continues to make news today?how the justice system has failed Canada's aboriginal people."
Prince George has its problems but I'm pretty cool with the fact our statue honours a woman fired for standing up for children's rights and then in retirement worked to expose racism in the justice system and society at large.
Downtown Prince George needs a viewing platform
→
Last year I was interviewed by a really cool project called The Tale of A Town which consists of a small group of people dropping into a Canadian community, talking to a ton of people and then putting together a story about that community through a short-run interactive show (which I really wish could be replicated on a permanent basis) and a series of short audio clips on their website.
My clip has gone live, and they chose me talking about something I still feel is true: downtown Prince George needs a publicy-accessible building that gives people fifth-storey-or-higher views of the city, something that I realized when I visited someone's office on the fifth floor of the Royal Bank building. As I said:
"You look out and you see this beautiful view of the Nechako River and the cutbanks, you see the downtown, you see the Crescents, you see how the city fits together… and that's the first time in my life that I ever saw that view from downtown Prince George.

"And the thing that I realized is unless you are staying in one of these hotels, or happen to work beyond the second floor in one of these buildings, that is a view of the city you don't have access to. So the vast majority of the people who live in Prince George don't have this perspective."
In just about any major city you visit, taking a trip up some sort of tower or another is on the list of quintessential tourist experiences. It gives us perspective on where we are and lets us see the character of the place in a way that you can't quite capture on the ground.
I really do believe it would help alter people's views on Prince George.