Dear fellow journalists, please stop sharing that 'scientific study' about us having low-functioning brains and drinking too much
Over the last few days, I have seen a lot of journalists sharing stories reporting on a study purporting to have found that journalist's drink too much, are bad at managing emotions, and have lower-than-average brain function: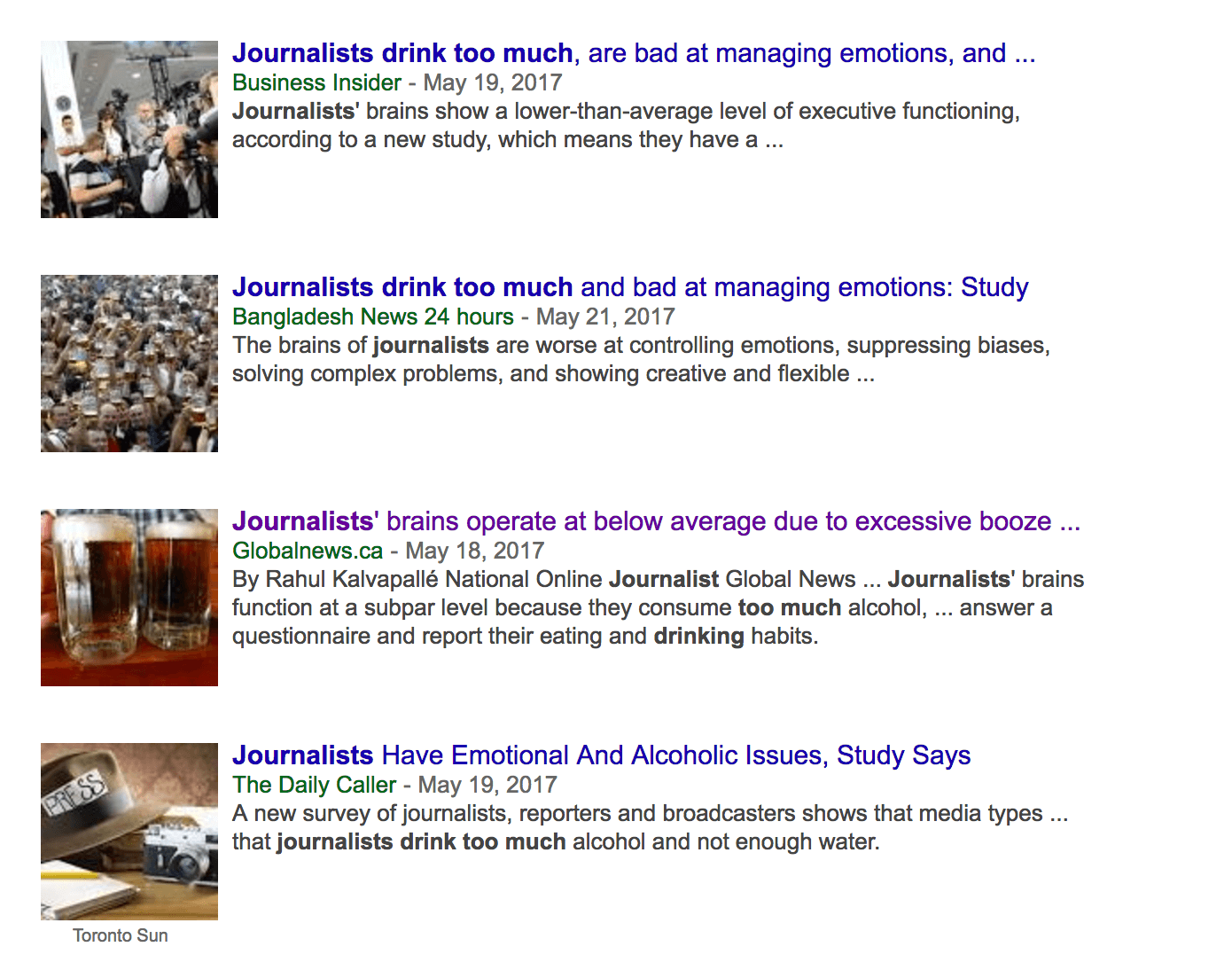 Mostly it's self-deprecating, with people adding little comments like "explains a lot" or "I didn't know they were studying me!" But just because it rings true and makes you laugh, doesn't mean it should be reported on as science. And that's exactly what's happening when a bunch of journalists with blue checkmarks start sharing the study uncritically and adding words like "science" and "can't argue with facts!"
The study is published on a personal website
So let's take a look at where this study came from. Is it a peer-reviewed journal? A well-respected academic institution?
No, it's a joint release from the London Press Club and "Tara Stewart: Neuroscience. Leadership." The actual study is in on her personal website.
It is based on a tiny sample size, virtually no control group and old wive's tales
When you get into the study, you find it was originally going to be on 90 members of the press club. But:
"Ultimately, failure to complete all the elements in the required time limit meant that a total of 21 participants completed every element, and a further 10 completed some elements of the study."
I'm no neuroscientist, but 21 self-selected individuals does not seem like a great sample size to be drawing wide-ranging conclusion on journalists around the world who have different work environments, cultural norms and backgrounds that can also affect your resiliency, sleeping patterns and "CEO part of the brain" (a phrase that comes up in this study a few times).
A little further on, we learn journalists are dehydrated because in this self-reporting study, most didn't drink at least 8 glasses of water a day. Never mind that there have been numerous scientific studies indicating that benchmark is an old wive's tale.
As for the control group placing journalists "below average"? Turns out it's bankers, telecom groups and sales teams that the author has run as part of the paid services she offers to corporate groups hoping to "to achieve a competitive edge by understanding and improving the physical condition of their brains.".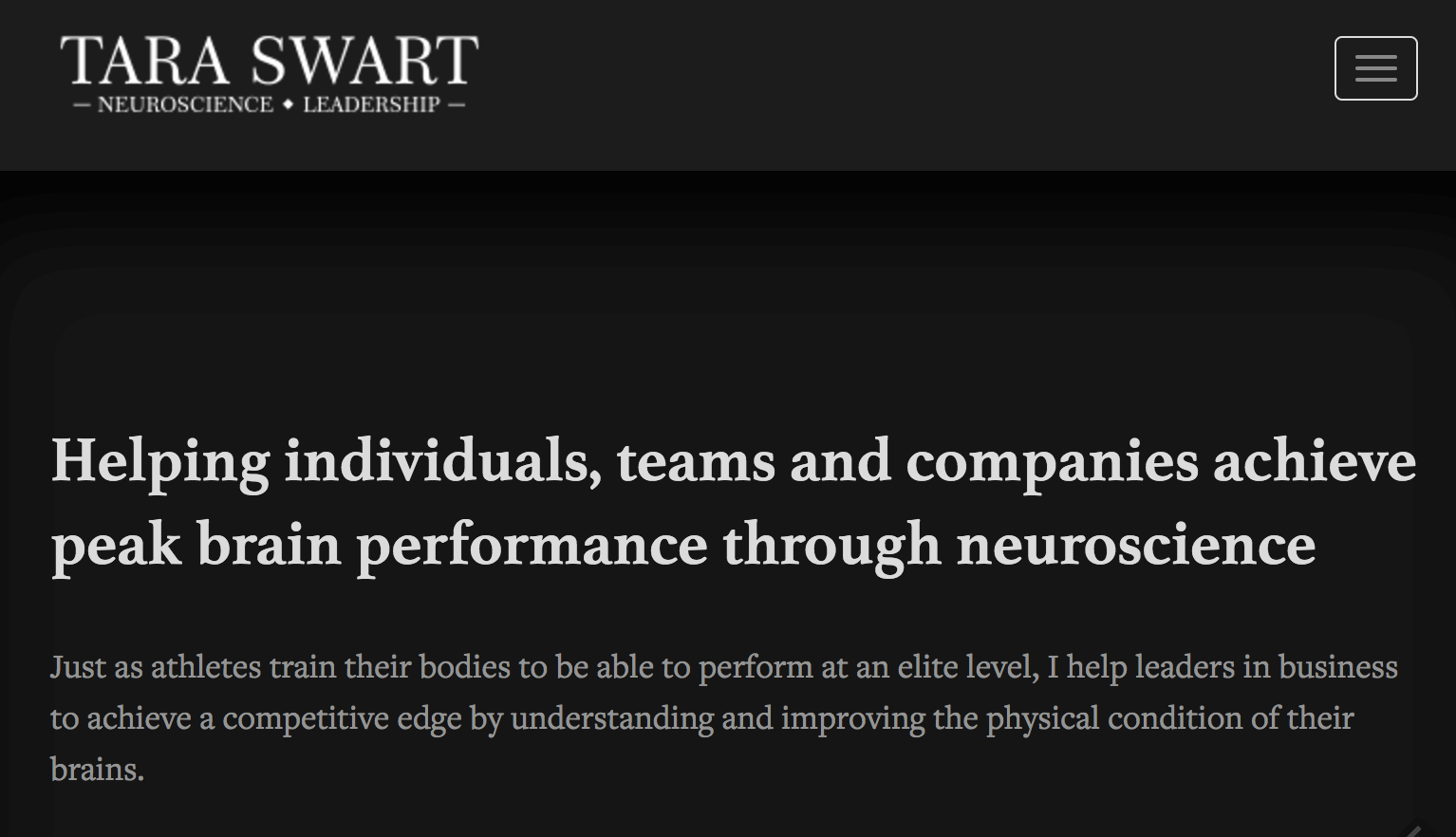 There is no indication of the study's weaknesses- standard for actual science publications
I looked for the section indicating the weaknesses in the methodology, areas for further review and comments about how we shouldn't take this as gospel– standard fare for any actual scientific piece. There was none. No warnings, no cautions, just a nicely packaged piece ready for distribution to media.
What's being sold?
A standard question I've been taught to ask whenever presented with a study, survey or research is who stands to gain from this? So let's ask a few questions about this one.
The study came from the personal website of it's author. What's on offer there?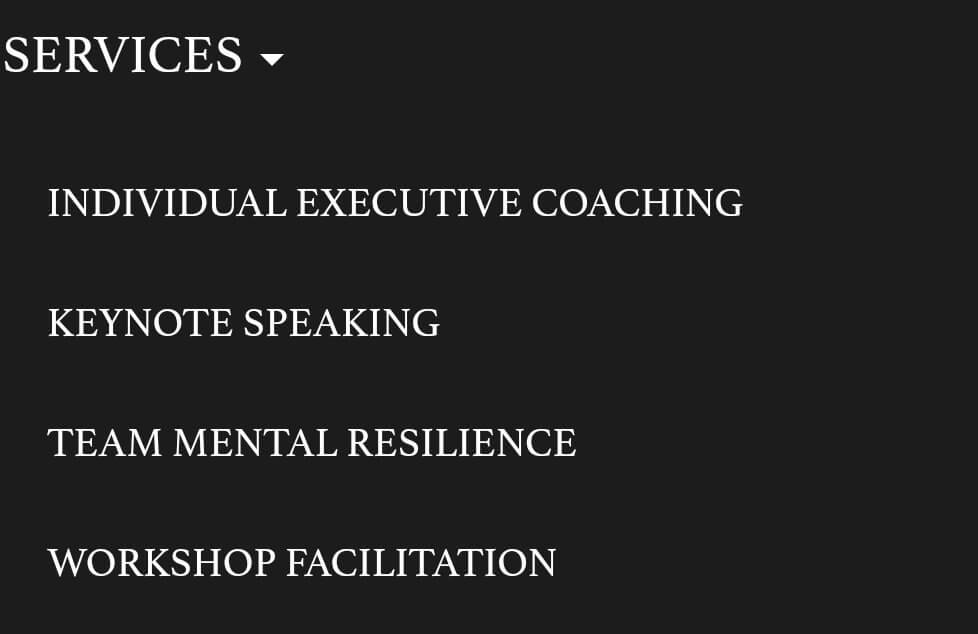 And what does the press release about the study say about her?

If I were to be cynical, I'd point out that by putting out a study on the minds of journalists, Swart has managed to get her name in numerous media organizations with a story that is being shared onto the personal Facebook and Twitter pages of countless journalists around the world.
Why does this matter?
Again, haha, I get it, we drink too much coffee and alcohol and are stressed out! And now science proves it!
Except it doesn't.
Journalism is the primary way most scientific information gets disseminated to the general population, be it through quick news articles recounting study highlights or more in-depth areas like Popular Science or Quirks and Quarks.
Even when it's for something ~fun~ and ~silly~ we should turn on our skeptical minds and try to educate both ourselves and the general public about how to tell the difference between good and bad science and studies, their shortcomings, and ways to properly evaluate information. That includes asking questions about where information is coming from, whether it was peer-reviewed, sample size and whether something is being sold.
As journalists, we need to avoid confirmation bias- even if it's about ourselves.
representation and free labour
For a while now, but especially over this past week, I've been thinking about the free labour I and others in the media ask of people in what can broadly but inelegantly be defined as "diverse communities": Indigenous, LGBTQ+, Muslim — basically members of traditionally underrepresented and/or marginalized populations.
Here's what happens: something affecting or involving that community occurs and journalists across the country start flipping through our memory banks of smart people with an informed perspective to talk about it. Often this isn't to promote a passion project. This is to defend their own humanity.
In arenas of politics or business or the arts there are often people who are paid to think about these things and occasionally talk to media on behalf of articulating their perspectives.
Broadly speaking, that's not the case when it comes to groups like those I mentioned above, and that's the result of a whole host of systemic issues that stretches beyond just the media, but definitely includes the media. And so the people who are representing those groups in the media might pop up again and again, but still have to have another job to actually put food on the table.
When I or anyone else reaches out to them to talk, we're asking for free time and free labour. This is, of course, what I do for anyone I want to interview, but when it's someone that gets turned to again and again and again simply because they are willing to speak on behalf of who they are — as opposed to the company they represent or the political party they are trying to get elected — it feels like more of an imposition.
Of course, the tradeoff is if we *don't* call, those sorts of voices don't get heard when they should because, factually speaking, they are underrepresented in traditional positions of power and visibility.
So there's some thoughts I'm having. If you are a person in media or one who is frequently contacted by media, I'd be interested in hearing yours.
'For those who don't know…'
In some writing spaces, there's an actual physical list of clichéd words and terms on a wall- phrases that have been overused to the point of being meaningless. It's a good practice to remove crutches and help sharpen writing.
One of my personal crutches that I've been thinking about lately, which is "for those who don't know." I use it when we have an expert guest on and I want the host to prompt them to give a basic explainer on the topic at hand. For example:
"For those who don't know, what is the first-past-the-post voting system?"
"For those who don't know, why does the U.S. think Canada is unfairly subsidizing softwood lumber?"
"For those who don't know, what is geoengineering?"
It's a way of making the topic accessible while demonstrating that we, the journalists, already know all this stuff. This is for the benefit of the listener, not us.
I'm wondering if that's necessary. If a host were to start a conversation with "What is first-past-the-post voting?" would listeners at home throw their hands in the air in frustration at their ignorance?
Or would it be pretty clear that this is being done for the benefit of establishing the basics before moving on to the more nuanced portions of the conversation?
Interested in your thoughts.
"I'm a citizen of a place that was laid right on top of another."
→
I first read this piece by Denise Balkisoon on what it means to be Canadian when it came out over a month ago, and I've come back to it multiple times.
There are many, many great parts of this, starting with a rumination on how countries are places, not just ideas:
"The closest I got to considering the physicality of countries was thinking about borders, which are ideas about how imaginary lines should be imposed onto a real space, followed by vigorous attempts to police them. It's weird that invisible borders breed cultures, but they do, and one thing that I've always known is that Canada is not the only way a country can be."
And this, on 'Canada the good':
"My Canada has always been a place where the idea of white Anglophone superiority is driven home with consistent ferocity. Though I have a Canadian passport accepted around the world, that doesn't mean I am accepted as Canadian. I used to internalize that rejection, fuelling my travel with a desperate longing for a new home. That phase is over now. I know that I belong to this place, and I've become used to asserting that.

"Between my global views and my local wounds, I consider my citizenship a lucky penny with a tarnished side. Canada was, without a doubt, a good place to be born. I have had a safe and comfortable life here. But I refuse to be endlessly grateful to anyone other than my parents. The comfort I live in is no more than I deserve, since housing, health care and education are basic human rights, and hardly guaranteed to every person born in this country."
And on the division between 'mainstream' Canada and the lived experience of many Indigenous people:
"A bit out from the road, in the middle of some tall grass, I noticed a sign featuring what I saw as "Indigenous art" and advertising a helpline for native women coping with violence. I had driven by at least five times before, but this was the first time I registered that sign. And I felt, physically, the intense individuality of my lived experience of space, and how the same small bit of Earth could be utterly different for different people. In the language of The City and The City, I had experienced a breach. And, as in Besźel and UI Qoma, unseeing is almost impossible. It's not an idea, but a truth: I'm a citizen of a place that was laid right on top of another."
Highly recommended.
The Manitoba Sound
→
Melissa Martin investigates the Manitoban accent and its roots in Indigenous languages and waves of settlers:
"Manitobans don't think about this much. Our accents aren't famous or a point of civic pride. Unlike English speakers in New Yawk or Bawwston, we don't often see our ways of speaking presented in pop culture media.

"So we don't usually conceptualize ourselves as speaking like Manitobans — until someone else points it out.

"Yet language is tied to place, as surely as mountains and rivers. The words we use, the colours of our vowels, the way consonants find their way through our teeth: those belong to here, too — and they are changing."
I love learning about these hidden, subtle things that create community and identity in almost imperceptible ways.
The New York Times looks into 'Month 13' of the 12-month private sponsorship of Syrian refugees in Canada
→
An excellent piece of reporting by Jodi Kantor and Catrin Einhorn in the New York Times following the experience of well-meaning Canadians and their Syrian sponsors as they move away from helping their charges through everything towards, hopefully, self-sufficiency. As expected, it's complicated.
"She and the other sponsors asked themselves: How could this be happening, after they had grown so close to the family? And did they really have the right to know or question how Mr. Hajj used money?

"In reply to his question about welfare, Ms. Karas did not mince words. 'We didn't bring you here and give you all this help so that you could become a drain on our government system,' Ms. Karas told him. She explained that social assistance was a stopgap measure for people in need. "We expected you to go out and get a job and support your family.

"Mr. Hajj agreed not to apply. "''m a son to these sponsors, who have lived in this country their whole life,' he said later. 'They must know for sure what is right and what is wrong.'"
Honest, stark and, importantly, human, this is great work. And, not to take away from this, it should be asked why this is a front page story on the Times rather than a Canadian publication.
fake markets
→
Anil Dash has a lengthy and very worthwhile post about new technologies and how they are using the illusion of free markets to create monopolies. For example:
"But unlike competitive sellers on eBay, Uber drivers can't set their prices. In fact, prices can be (and regularly have been) changed unilaterally by Uber. And passengers can't make informed choices about selecting a driver: The algorithm by which a passenger and driver are matched is opaque—to both the passenger and driver. In fact, as Data & Society's research has shown, Uber has at times deliberately misrepresented the market of available cars by showing "ghost" cars to users in the Uber app."
There's a lot more ending with a key question:
"Look at the apps on your phone right now. Are you sure you are comfortable with what's going to happen when everyone's running the same apps that you are?"
I read this post a month ago and find myself thinking about it almost every day.
cymbal.fm
→
For three years I was part of a site called "This Is My Jam." The premise was pretty simple: you choose one song, and only one, you are truly passionate and set it on your profile, along with a few words about it.
The beauty of this versus, say, Spotify is that it was a lot simpler. On Spotify, people make big ol' playlists of songs they like, which can be fun, but also overwhelming. TIMJ was the digital equivalent of that scene from Garden State where Natalie Portman puts the headphones on Zach Braff's ears and tells him to listen – one track, not an algorithmically-generated playlist of 30 or more.
Anyway, This Is My Jam shut down, as did Rdio – another place where you could share individual tracks along with some comments. I knew I missed them but I didn't realize how much until discovering Cymbal.
The premise of Cymbal is pretty similar to This Is My Jam – share a song, and some words, and then listen to other people's songs and their words. While TIMJ felt like a place where you would want to leave a song up for a day or even a week, Cymbal is a little more immediate – I'm doing two or three a day – but it feels good.
The main thing I like is the conversation that's happening, and the ability to discover people who have some similar likes as you but are also out there finding new things. Facebook and Twitter somehow just don't do it for me on music sharing, and while I've adopted Spotify as my listening place, it is sorely lacking in the human aspect of things. Music should be social.
I'm steeling myself for the inevitable closure that seems to follow every music service I truly love, but maybe these guys can make it happen.
If you're inclined, you can find me at my usual spot.
Is Prince George losing its family restaurants?
With the news that Kelly O'Bryan's is closing its doors in Prince George, an interesting point from James Doyle on Twitter:
There have been some high-profile new restaurants opening lately, but it hadn't occurred to me they weren't exactly family-oriented. Two – Kask and Cornerstone – are centered around beer and many others are a sort of high-end, pub-style environment. Kids aren't excluded, per se, but I can see where they wouldn't be the sort of place you'd want to bring a crew of under-ten-year-olds. On occasions where I've wanted to go out with a group that includes someone with a small child, there have been issues around this.
Which isn't to say there's no where for kids to eat. Lots of other people chimed in to talk about the good experiences they've had bringing their kids to "non-family" restaurants. Which may be a good thing – Adam McDowell has a good piece in the National Post about the problem with kid's menus and how they are limiting both future eating habits and cultural horizons. Still, I sympathize with the busy adult who just wants a place they can afford to bring a family and have their kids enjoy it.
Here's more of the conversation:
* Views expressed in this blog are my personal opinion, and do not reflect the views of any of my
employers,
clients,
or pets.
Full Disclaimer→

Original content is licensed under a
Creative Commons Attribution-NonCommercial-ShareAlike 2.5 Canada License.

For more information visit http://andrewkurjata.ca/copyright.

Powered by WordPress using a modified version of the DePo Skinny Theme.
Back to top