September 14, 2010
Busy day today. After staying up until 2 am grouting our tiles (so glad we had extra wood to do the halls, instead of full tile as initially planned), got up this morning for a 9 am meet and greet with the new cast of Health on the Hill. This is program on CFUR radio put together by medical students as a year-long assignment, where they discuss various aspects of health care and the training they have to go through to do it. It's a good program, started by a separate group last year, and they managed to find a new set to take it on (apparently third and fourth year med students don't have a lot of extra time to produce a weekly radio show). They're all enthusiastic about it, and are obviously reasonably intelligent people, so it's nice to have it coming, alongside ideas some new volunteers are talking about. It's nice to have bodies around again and meet new people. It's like going back to school without all the homework. The toughest thing is explaining that I'm not a student, and I'm not planning on doing a masters, either.
After that I did some office tasks, including cleaning out my inbox, which had piled up over the summer. I use various "inbox zero" techniques that include mass filing emails from the same person, and especially flagging things that are "to do" and then filing them in a folder of the same name. Something about taking over a hundred emails and getting them down to three key items or so is very satisfying.
For lunch, I rode my bike downtown to meet with people from my other job, the CBC. A higher-up was in from Vancouver to meet the northern staff, and we got the opportunity to discuss my thoughts about the show. The first question was "what do you like about Daybreak North?" and the answer I gave was essentially the last paragraph of this post— helps to have your thoughts in order. We also had lunch, where I saw one of my photos in a poster. Also, a ladybug and a new Listen Bird. Oh, and we talked scheduling, and I'll be back at CBC 2.5 days a week from Sept 20 until Christmas– it's two-job time again.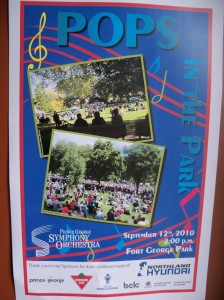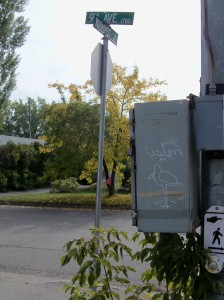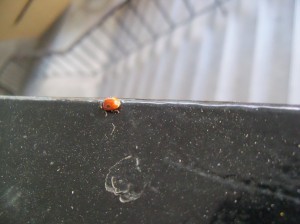 I then went and picked up a bunch of audio cables CFUR needed– various ones had stopped working, plus we needed new ones in order to hook up some new equipment, and it hadn't been done over the summer until we got a final tally of what we needed. After missing the bus from downtown and biking like mad to catch it partway back to the university (huge cardio burst), I managed to hook everything up, including an old record player for the pre-record studio. It was too quiet, so I boosted it through an old amplifier. It's a pretty old-school set-up, but I'm proud of it.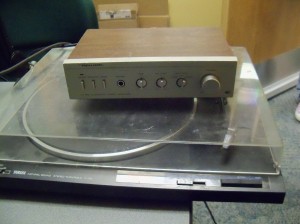 Also had two bands stop by– they were touring through town– and they asked if there was any possibility of getting on-air. Fortunately, at just that time it was the CFUR Mixtape, which is a new portion of programming designed to be flexible so that we can slot in interviews, psas, and the like. So we went ahead and had an impromptu on-air session. The stand-out thing to me about the band is that they had these promo cards where you go to a website, enter a code, and download a cd– then you throw the card in the ground and it goes to seed and with luck turns into flowers. Pretty cool idea.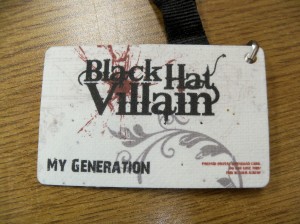 Then it was home to polish tile, dinner with family (including aunt and uncle from out of town) and home, where I started writing this and we let ferrets out. They've been cooped up while we've been doing renos, so they're pretty hyper. It'll be nice to be able to let them out regularly, soon.