How Do You Music, Part Two: CBC Radio 3 (Music Discovery and the Web)
In this series, I'm providing an overview of how I use the web to discover music. Today: CBC Radio 3.
Yesterday, I wrote about the Hype Machine, which is a pretty comprehensive music discovery site. But it doesn't cover everything. For one, as good as its filters are, it does skew towards remixes, djs, and big cities. Nothing wrong with that, but sometimes you want something a little closer to home. Well, why not go to our very own public broadcaster (and my part-time employer, incidentally), the Canadian Broadcasting Corporation?
Contrary to the sometimes staid reputation of that venerable institution, the CBC Radio 3 arm operates much more like a web start-up than a large corporation. It's mission is very simple: to promote independent Canadian musicians. It does this by combining the best parts of radio with the customization available on the internet. Let's begin at the beginning.
The Best Radio Station Out There
When you visit radio3.cbc.ca, you are greeted by what you might expect: radio. It's a web-only stream, yes, and there are no commercials (except the occasional in-site promo), but in every other way it's just like a radio station. Songs play, DJs talk. If you wanted, you could just put it on and start listening (as I frequently do).
However, this is the internet, so there's more interactivity than than that. You can look and see what's playing (in the case above, Ketch Harbour Wolves and the song "Body Without Organs"). You can give the song a thumbs up or thumbs down, which influences whether it's played again, and how often. But it goes deeper than that. And this is where CBC Radio 3 gets amazing.
A Place for Artists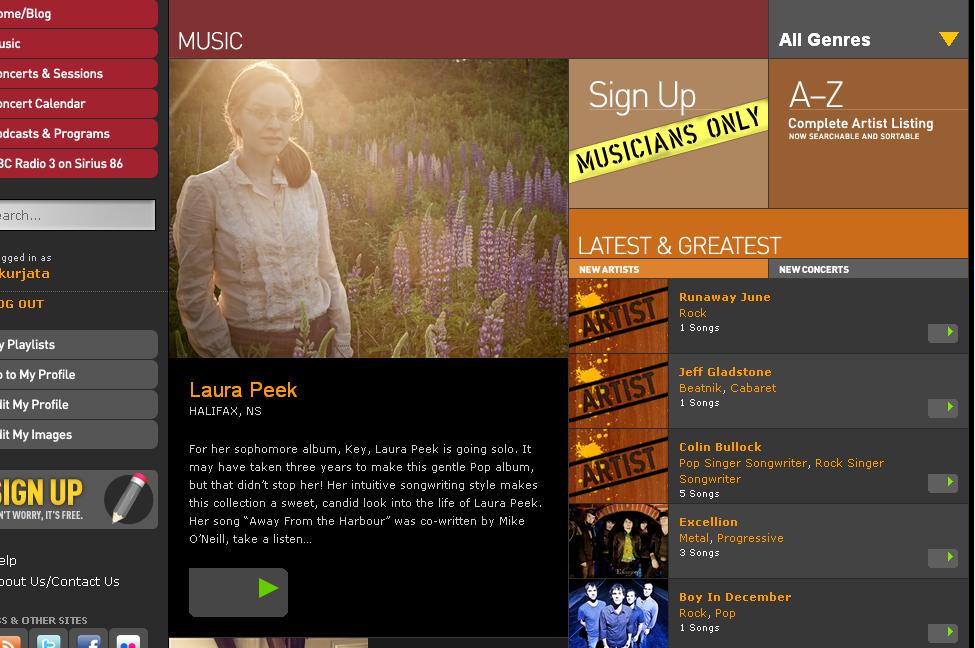 You see, not only is it a radio station, but it's a music repository, sort of like a MySpace for independent Canadian musicians. If you're a Canadian musician and you're not signed to a major label, you can create an artist account and start uploading songs and videos. This is what Radio 3 draws on, exclusively, for its music. It ranges from my friends' old high school bands to the Arcade Fire and Broken Social Scene: hundreds of artists, probably thousands of songs. And every one of these artists have their own pages where you can browse the music they've uploaded.
Even better, you can become "fans" of the artists and be alerted (opt-in) by email whenever they put up something new. Doing this requires a user account, which I highly recommend, because it also gives you access to playlists– and when it comes to online playlist management Radio 3 is as good as or better than every other online service out there.
Playlist Management
Pictured above is my playlist page. My two most frequently used are "songs I've liked" and "song to listen to." As I'm listening to music in-site and hear songs I enjoy and might want to hear again, I hit the "+" and add them to the first. Other times, I'll want to check out a new artist or song (like when I get alerted a band I like has added something new via email), I'll add them to "songs to listen to." I've also got a few other playlists for specific sounds, and I've favourited other people's playlists that I like (yes, you can browse other user accounts). You can drag songs between playlists, and mix and match their order, either by dragging or changing the number beside them.
This is a great management system. All the other sites I use only give you one playlist– loved songs– and let you either play it newest to oldest, or random.
Plus, it has real depth. The Hype Machine has lots, but it doesn't have everything, and there are quite a few great Canadian acts that you'll never find on the Hype Machine that have entire discographies uploaded on here. This includes acts from the nineties and earlier– as time has gone on, Radio 3 has become more of a driving force in the Canadian music scene. It's certainly where I discovered a lot of my favourite acts, including the New Pornographers, Broken Social Scene and the Weakerthans, long before they were as big as they are today.
Actual Music Curation
Another great feature of Radio 3 is the curation. Not only are there other passionate music fans making lists, but there are paid DJs and producers who are legitimately paid to put together music programming– but they aren't beholden to any commercial interests. So you're getting people who are going out to concerts, listening to albums, and filtering the best into showcases from a "track of the day" to a weekly top 30. In addition to the main radio stream, they have genre streams like hip-hop and pop, and occasional showcase podcasts, highlighting electro, heavy metal, or country.
Blogging Community
They also have a blog, updated with every new block of programming, and an active commenting community which is a great place to branch out and meet other music fans. I've seen people trade tickets, give advice, and even foster friendships in the comments on Radio 3. That's not something you see many other places.
The Future of Radio?
When I started getting into music, Radio 3 was one of the first places I went. It is the best music radio station around: great programming that would hold up against any terrestrial station, combined with the customized experience of the web. Streaming, on-demand, playlists, podcasts: it's all there. Canadian or not, if you're a music fan you should definitely check it out.
Further Reading
James Cridland: CBC Radio 3: new music discovery meets social media
Andrew Kurjata (yes, me): How Independent Music and the Internet Helped Transform a Nation
Northern Voice 2009: Making the Worst. Radio Station. Ever. (via Miss 604)