Stop Using Documents. Start Taking Notes.
I do a lot of writing. And I take a lot of notes. I have to keep track of contacts, stories, various website codes, scripts and playlists for my radio show, minutes and contracts for CFUR and other boards, plus blogs that I write. Working in two different offices plus from home, you would think I have a whole bunch of text documents saved and synced across computers.
I don't. I have one file.
ResophNotes bills itself as a simple and fast note taking system for Windows. And that is exactly what it is.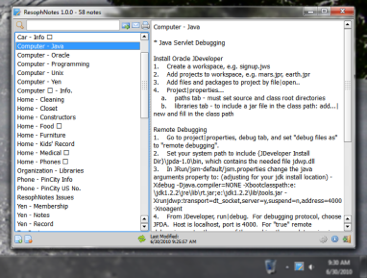 Unlike Word, Pages, and OpenOffice, which require you to save multiple documents, ResophNotes just keeps everything in one database. There's a searchbar in the top left-hand corner, so to find a note you were writing, you simply type in a few key words and your full list of documents is filtered down. This means there's no need for folders all over your computer, and no need to title the notes. Even better, it automatically saves on the go, so you never have a crash and lose all your work.
It's light-weight, which means there's no formatting. No tables, bullet points, even bold or italics. But you know what? I've found that doesn't matter. I focus on my writing, then if it needs formatting I put it into Word or my blog and add the formatting as a final step. Formatting is a distraction.
Better yet, it syncs. You sign up for a SimpleNote account, and you can access your notes on any computer. If you don't install ResophNotes, you can use SimpleNote's web interface. I have another Simplenotes client (mNotes) on my phone, so I can access all the information there, too– even when I'm offline. There's Mac and iPhone versions. Oh, and Simplenote has version history, in case you accidentally delete something.
If I'm on the phone with someone and need to keep track of phone numbers, tracking numbers, or even add some to-do items, I throw it in a new note. If I have an idea for a blog, I put it in there, too. I transfer stuff I know I'll need to access from my physical notebooks into my virtual one. Almost Mainstream scripts, to-do lists, contacts, letters– all in. It's a searchable database equivilent of what used to be stuff scribbled on the backs of receipts
I never thought that the word processing tool I use could affect my workflow. And I definitely never thought that the best writing tool I've ever used would be the most minimal. It's drastically increased my productivity, and virtually eliminated time wasted looking for that one piece of information I know I wrote somewhere! I understand if you're skeptical. I was, too. But using Resophnotes and its sister software for the last few months has been great. I highly recommend you give it a try.