This Is What A Bike Lane Looks Like? Redux
Just over a year ago, I posted this picture:

That's the transition point off of a highway, one of the highest-traffic sections in Prince George. The bike lane is– well, a yellow sign encouraging motorists to share the road. There is nothing else, not even a white line.
Earlier this year, I posted this picture: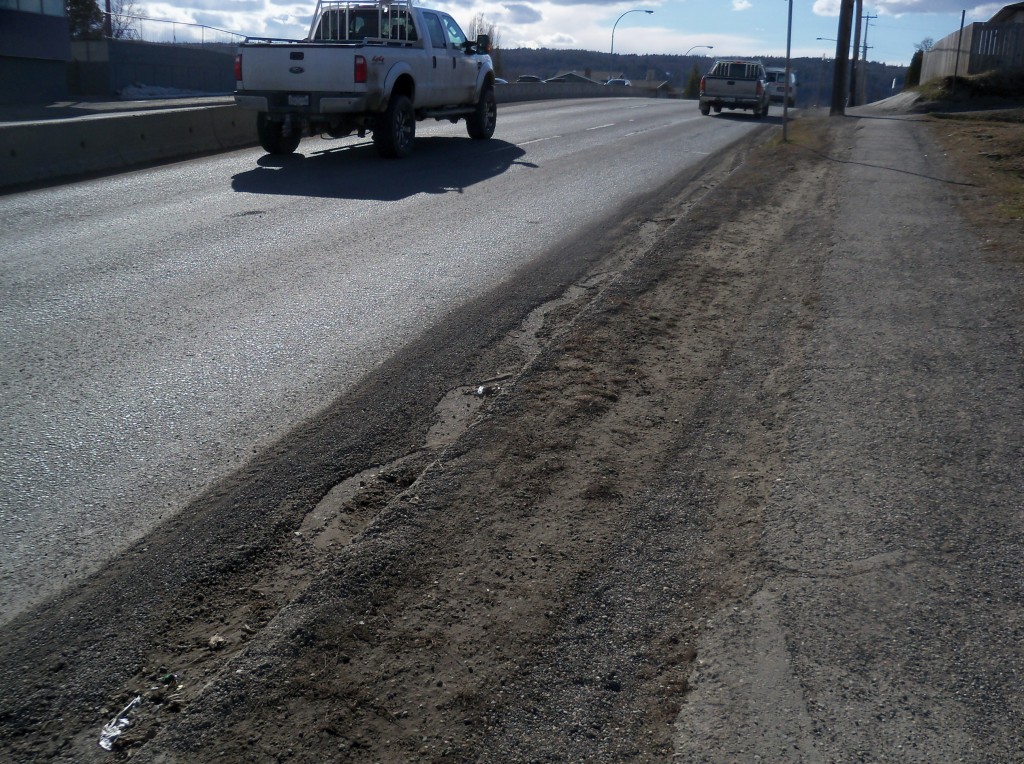 That's the side of the road full of gravel after street sweeping.
In both these cases, I was arguing that changes need to be made if we want to get people out biking. For anyone who's not a confident city biker, this sort of thing is not exactly going to get out there.
Yesterday in the Prince George Citizen, Frank Peebles brought this dismal bike lane situation to the front page. But it's not bikers he's primarily concerned with. It's people with disabilities on motroized chairs. From the article:
"Motorchairs and bicycles are popping in and out of traffic because cars are parking in the city's bike lanes.

Although Ruth Blank is concerned for her health as she drives her motorized wheelchair around those parked cars, the law is clear. The cars are allowed to be there.

"Why are they building bike lanes if you can't even use them?," she said. "Why don't they put a law in that says no parking in bike lanes?"

RCMP spokesman Cpl. Craig Douglass said the present conditions allow drivers to park in any of those wider side-lanes for bikes unless there is a sign designating them as No Parking zones.

"Those scooters are to be used on sidewalks, where one exists. We ask that they be on the sidewalk whenever possible," Douglass said. "Those machines are considered a wheelchair which puts it into the same category as being a pedestrian. That is why the city invests in ramps for the curbs."

Not bicycles, however. Bikes cannot be ridden on sidewalks (small children are allowed), their speed puts them into a different class. They must use the bike lanes and if necessary, enter the regular flow of traffic when safe to do so. Once in the flow of traffic, vehicles must consider them a motorized vehicle and only pass them in a safe, legal manner."
Parked cars, pulled over buses, garbage cans, construction– there are any number of things stuck in bike lanes without any alternative. Can you imagine the outcry if passing lanes were only passing lanes so long as no one decided to park in them?
I've posted this quote about bike culture in Copenhagen in the past, too, but it's worth revisiting:
"…we rode almost exclusively in dedicated bike lanes, which as Canadians we'd come to believe consisted of a stripe of paint on the edge of a busy roadway, or even just a pictograph of a bicycle floating helplessly among parked and idling cars (serving mainly as practice targets for passing motorists). Copenhagen's bike lanes, by a comparison so stark it makes little sense to use the same term, are flawlessly designed and maintained, with physical barriers such as curbs, medians, and parked cars between them and the motorized traffic, and their own traffic lights at major intersection."
If we really want to encourage people biking to work (and we should– it's good for the environment, it's good for public health, and it eases the burdens on roads which would mean less maintenance costs) we need to at the very least RECOGNIZE that the infrastructure we have is lacking. I'm not expecting a wholesale embrace of a Copenhagen-type system, but maybe something a little more adequate than "share the road" signs, or recognition that bikers may be safer on sidewalks than they are in loose gravel alongside high speed traffic.