Meet the Mehtas
This one feels good.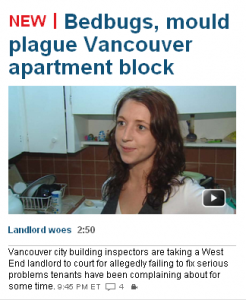 As I write this, the most prominent story on CBC's B.C. website is about some Vancouver landlords who are being taken to court by the city for years of causing problems for their tenants and refusing to pay fines when ordered. A pretty big story from those Vancouver residents who've been dealing with these problems.
A pretty big deal for people in Prince George, too.
You see, the trajectory of this story has it origins in a November 3 fire at the Victoria Towers apartment building here in Prince George. Close to 100 residents were evacuated from the building, and it was too damaged for any to return.
A few weeks later, one of the former tenants invited me along as he cleaned his place out. That story aired on Daybreak North (you can find it here).
A portion of that story that didn't go to air was this particular tenant relating to me the problems he'd had with the building in the past. He actually has had those problems documented by other media, like the Free Press and the Citizen. There just wasn't room for it in that story.
But then things kept happening. I went to a tenant meeting, where evacuees were looking for money back since they paid November rent, and then were out on their own without word from the owners about getting compensated. Other former tenants started contacting CBC, relating their own problems with the building. I was directed to a website that documented problems people had with an apartment in Vancouver owned by the same people. A contractor got in touch, saying he'd dealt with the building owners and had trouble getting paid. I talked to people, and then started doing some searches for company registry and court documents. The results were surprising.
The Mehtas, a family named by everyone who contacted me as being the landlords/owners/managers of these various buildings, are officers of multiple companies around the province (officer being secretary, president, etc of the company). The main company is Zoro. There's some other ones, including Pacific West (Group of Properties, Properties, Management, etc– the name changes), which is listed in the lobby of Victoria Towers as the owners and managers. I didn't find this company registered anywhere, but it has a website and a phone listing, and it shares the same address as Zoro.
Simply having multiple companies isn't necessarily newsworthy. What WAS was the court search. Over 50 small claims cases since 1991, from Prince Rupert to Prince George to Victoria to (mostly) Vancouver, primarily dealing with tenants wanting money owed or small contractors wanting money owed. Exactly what was going on in Prince George with Victoria Towers. Oh, and an arrest warrant for one of the Mehtas.
That was enough to do a story on, and so I did. On Monday of this week I went on Daybreak and outlined what I'd found. I should stress that a lot of this was thanks to help from people who'd already done some digging into this story on their own, and guidance from people throughout CBC. The story was fairly well received.
But then Natalie Clancy in Vancouver picked up on it. She's a Vancouver-based investigative reporter. She rightly realized that this was a Vancouver story as much as it's a Prince George one, and one with some fantastic visuals. She did some more research, got interviews, got tape, and turned the thing around for the TV newscast tonight. You can see the results here.
This story still isn't done. Natalie's story reveals that the City of Vancouver is now taking the Mehta family to court "allegations of failing to maintain the building and ignoring a string of orders to make repairs." So perhaps something will happen there. But I would posit that it's a bit of an issue that's it's taken this long for things to get to this point. I don't know all the details, but 50 court cases over 20 years, plus who knows how many complaints with the Residential Tenancy Branch (they wouldn't tell me), which is the first line of defence for wronged tenants, and it's finally gotten to this point? It seems a bit long.
Not that I blame anyone in particular. It's a complicated problem. Landlords are going to get complaints, and that alone isn't enough to punish them. But there seems to be a lot of grey area in the landlord/tenant rules in the province. And as outlined by Prince George city councilor Murry Krause here, it's not necessarily an easy fix. People need to know their rights. They need the resources to ask for them. The cities need the resources to enforce these rights. And ultimately, people need to live somewhere. If one of these places is all they can afford, what else are they supposed to do?
So I'm glad I was able to help get the message out there for some people who feel wronged by this whole situation. But I would be happier if this sparked a larger dialogue about finding a solution to this problem, and then putting it into place.
See also: No Magic Bullet: Tenant Rights in B.C.