How to keep cats in your yard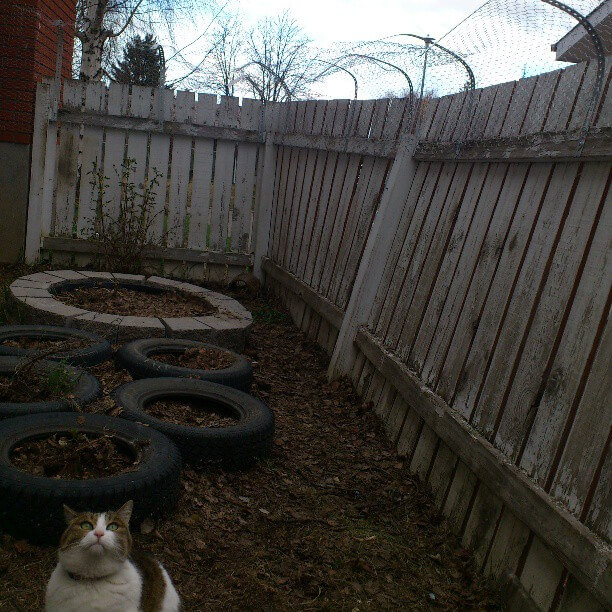 When we got word that baited cat traps might be coming to the neighbourhood, it was time to spring into action.
We've been trying different techniques for keeping our cats in our yard since we bought this house. The biggest problem was the cat who came with the house (the old owners had left him behind with instructions to take him to the SPCA). This is his neighbourhood and he'd spent most of his life outdoors. He didn't take well to being inside at all. We tried sectioning off a portion of the yard for him as a little enclosure attached to the house, but he first climbed his way out, and then when we made that impossible, started digging into the main yard and hitting the road.
Anyways, this isn't a post about whether cats should be indoor or outdoor or whether cat traps should be allowed or not. Some cats really want to spend time outdoors, and other people want to bait cat traps and we've encountered both and here's what seems to be working.
Buy a bunch of chicken wire- basically how ever many feet of fence you have, get that plus change. Also buy what I think are called galvanized steel restraints (they look roughly like this)- approximately one per section of fence, plus a few more for corners, etc. You'll also needs staples/staple gun and a method of attaching the steel restraints to the fence.
So first we went around the yard and screwed the steel restraints in to the middle of every section of fence. Then we took the chicken wire and ran it along the fence, stapling it in. We put the chicken wire in such a way that there is no platform or paw-holds for the cats to climb onto, it's all covered in chicken wire. Then we used excess wire to tie the steel to the chicken wire. Then we went around and bent the steel at an angle so the cats look up and see that not only can they not climb the fence, they can't jump over it. Bonus is the chicken wire is loose enough so if the cats try to jump on it they'll find it not exactly stable. I'm explaining this poorly in words so here are pictures.
After a few false starts where we had to fill in gaps and adjust angles, we've had some days in a row now where the cats have been unable to leave. The main escape one isn't super-happy with the arrangement, but he'll adjust, especially as we expand parts of our garden to be more exciting for him to explore. I expect we'll have to consistently monitor and repair, but for now it's working. It's a compromise.