Praise for the City of Prince George's webcasts
I like following local government. I have been known to livetweet city council meetings, even when I wasn't being paid to. When this video came out, I can't count how many people sent it to me. It's a good video. It's tongue-in-cheek, yes, but it also demonstrates that if presented properly, decisions being made at council meetings can be just as dramatic as any other form of politics. They certainly affect your life.
But let's face it, it's not always easy to sit through a couple hours (or more!) of a meeting, even if it is only every two weeks. This is why I'm a big fan of the council webcasts. Every meeting is broadcast live online, and they are then archived and accessible afterwards. I've often put on meetings in the background while doing other chores, and now that I'm working an early shift and sleeping during the meetings, I'm able to check in on the major discussions the next morning. They are up and ready to go by 5 am, maybe earlier. They are also indexed, so you can jump to whichever discussion you want.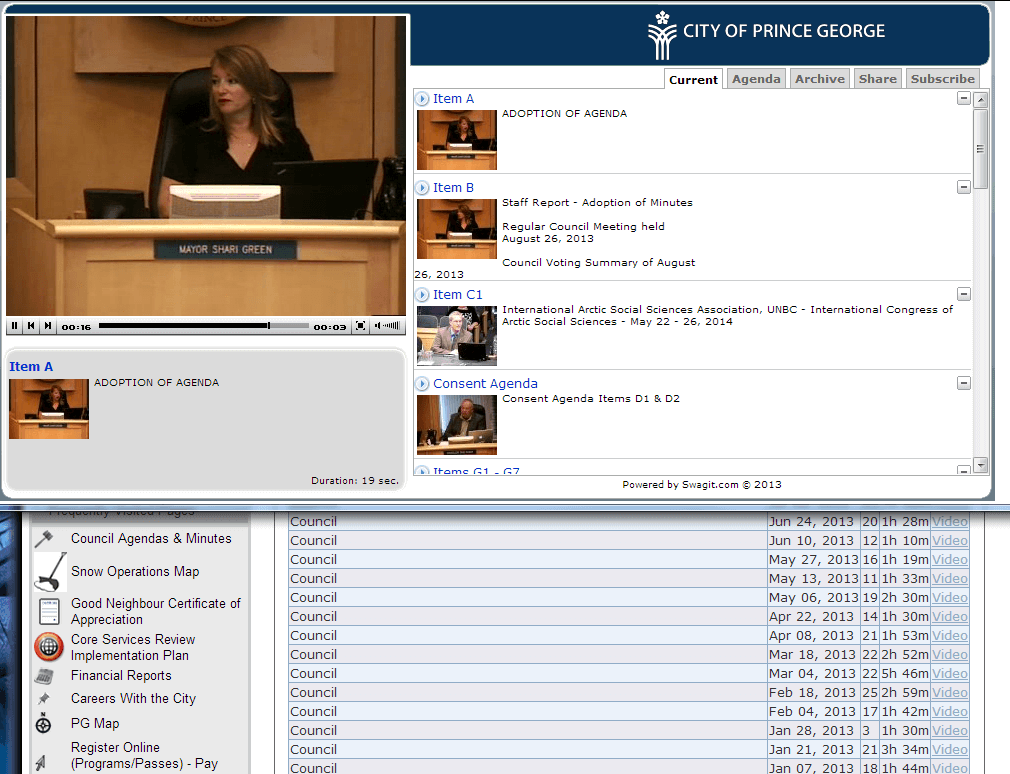 Prince George, like all cities, faces a fair amount of criticism for what it does and how it does it. Sometimes I provide critiques of my own. It's a part of democracy, and I think these critiques are important. But I also believe in giving praise where praise is due, and this is one area where Prince George shines. On-demand, indexed and timely access to the decisions made and discussions had by our elected officials– it's a very useful tool, and one I'm glad the city provides.
* Views expressed in this blog are my personal opinion, and do not reflect the views of any of my
employers,
clients,
or pets.
Full Disclaimer→

Original content is licensed under a
Creative Commons Attribution-NonCommercial-ShareAlike 2.5 Canada License.

For more information visit http://andrewkurjata.ca/copyright.

Powered by WordPress using a modified version of the DePo Skinny Theme.
Back to top