on community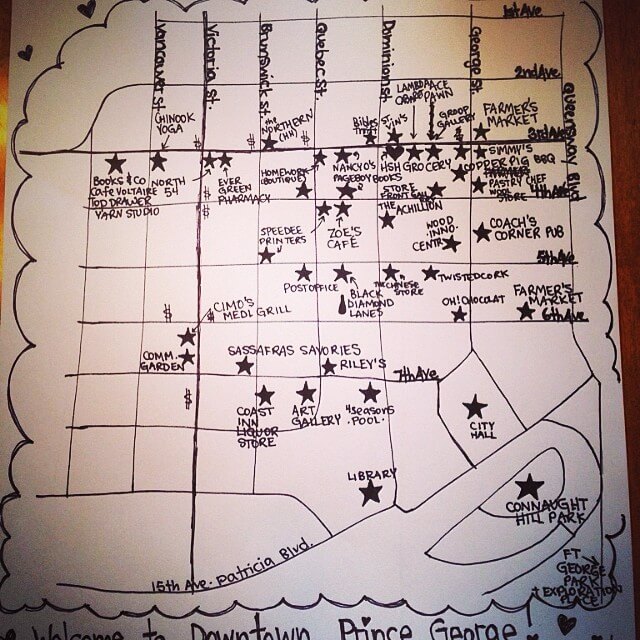 I learned a new word recently. "Psychogeography", as it was explained on this episode of 99% Invisible, is a method of wayfinding using emotions and memories. I immediately Googled it and found alternative definitions that don't resonate with me in the same way, so much like I did with the word "Kiez," I'm creating my own interpretation.
I have on my coffee table the debut issue of a new publication called Dreamland. In his opening note, the publisher and poet Jeremy Stewart asks, "Isn't it good to do community in this way?" Elsewhere I seem to remember him writing that community is a group of people who come together to do something rather than nothing. I have no idea if he actually wrote this, but it's in my head now and it's informing the way I think about the world.
The launch of Dreamland was at Page Boy Books, a new store down on 4th Avenue. It has nice wooden furniture, a big display window, and shelves full of well-kept used books. It wasn't there and now it is. And if it's still there a year from now it will be because it has a community around it. Amazon is fast and cheap but it doesn't open on Friday night to help launch a self-published magazine with poetry readings and tea.
I spent last Saturday walking around a one-block radius of downtown. It took over two hours. Every store I went into was a physical manifestation of a community: coffee-lovers, outdoor enthusiasts, crafters, gamers, and supporters of local food. These places do not exist out of mere function, there is a passion behind them, on both sides of the cash register. They represent what the people of this city value. More importantly, they represent proof that the people of this city still value the people of this city. They want places to come together and more and more I'm seeing stores that don't just sell stuff- they support ideas and put on concerts and host meetings and tournaments and get-togethers before and after hours.
I'm not sure why I wrote this as an explanation of why I want to start a newsletter, but this is what I've been thinking about and this is what came out. I've always wanted to have something titled "confluence" as a meeting place of people and ideas and as a hat-tip to where we are. So here's another stab and it. We'll see how it goes.