Off Mic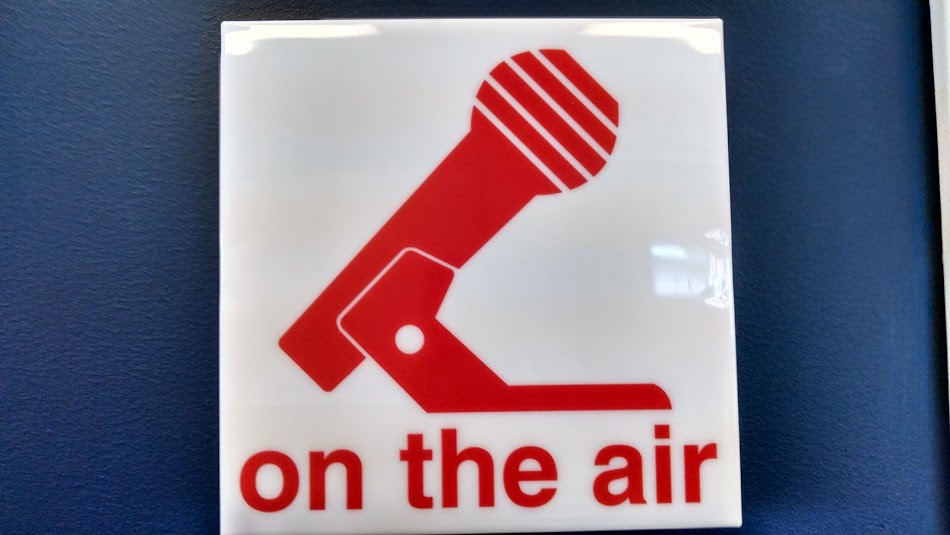 Just over a year ago, I sat down in the host's chair for the CBC Radio program Daybreak North. I'd already been working on the show in various roles since 2010, and more recently had filled in as host a couple of times when someone was away. So when there was an opening, I was asked to step in for a longer duration. Now that duration is coming to an end, and tomorrow is my last day as host.
This isn't an unexpected change. In fact, the unexpected part is that I've been doing this so long. Initially, I was only going to be filling in for a few weeks. That few weeks turned into a few months and, ultimately, thirteen of them, almost to the day. It's a bit of a complicated shuffle: we have a two-host show, with one person in Prince George and one in Prince Rupert, and there have been multiple bits of leave throughout. Suffice it to say my time on-air was always limited and has far exceeded my initial expectations.
Some people move into radio with the goal of getting on air. That was never me. I enjoyed (and enjoy) researching stories, finding leads, and putting together produced segments. I didn't think I would have much fun coming in and reading scripts other people wrote, all while having half my work day taken up conducting interviews and reading weather.
But it's an undeniably fun job and I've enjoyed the challenge of growing into the role. Doing an interview-based morning drive-time program, you have to be aware of many things at once: how much time is left? What's happening on the roads? Do I sound relaxed? What question am I going to ask this guest next? Is it interesting to the listener? At the same time you're thinking about your cadence, queuing up musical stings, communicating with the rest of your team, and a half-dozen other tasks. All while trying to sound spontaneous and effortless.
There is also a certain amount of celebrity that comes with being the voice on the airwaves. I'm not super in to being recognized, but it is gratifying when someone knows who you are and likes what you do. For better or worse, the person on air gets most of the credit for what gets heard. The fact that I am, even on a small scale, a "CBC personality" is something I still can't quite wrap my head around.
That being said, there are things I don't like. The hours, for one. Getting up before 4 in the morning is not something I've gotten used to even after this long. I never really settled into a rhythm and have consistently oscillated between napping, going to bed early and, more often than I'd like, simply functioning on five hours of sleep or less. This lack of sleep spills over into my eating habits, my exercise schedule, and my overall ability to be "with it" for the rest of the day. As the days get longer I'm already finding myself unable to get more than a few hours of sleep at night, and I can't say I'm sorry to move back to working the day shift.
There are also things about being behind the scenes that I miss. There are dozens of ideas for stories I have that require more investigation than I have time for while hosting. I also have various bits of raw audio that I haven't had time to flesh out into fully produced pieces. I look forward to being able to delve into these projects more.
I was asked recently whether I found it more rewarding to put together a well-timed, beautifully produced piece of radio or if I got more satisfaction out of improvising something live on-the-air. There is definitely a satisfaction that comes with being able to pull off something live- executing a challenging interview or chasing down a breaking news story- but in my heart of hearts I'm proudest of the work that took time for me to create. Maybe it's just because I spend more time with them, but looking back over the past year I remember the segments that I edited and crafted far better than any of the live interviews I conducted, and I think of them more fondly. In part it's because you're only ever half of an interview- you're dependent on the guest to bring something to the table- but in a produced piece you have the final say. If an interview is good, it's part you and part the guest, but if a produced piece works it's all about the choices you made. Or at least that's how I feel.
The one thing I will miss about being on-air that can't be replicated off mic is the relationship I have with the listener. As a radio fan, I've long known that audiences can develop a relationship with the hosts of their favourite programs, feeling like they actually know them. What I didn't know is that this is a two-way street. Over the past year, I've gotten to know the people who listen to this show, and it really does feel like I'm saying goodbye to a group of friends. Through emails, phone calls, and office visits I've gotten to know the truckers, students, ship captains, construction workers, city councillors, musicians, bankers, lawyers, street cleaners, retirees and families who tune in every morning. I have family and friends throughout the province who know bits and pieces about what's happening in my life simply because of a remark I made on-air. I've learned all sorts of things from grammar tips to weather patterns to hidden swimming holes thanks to people who would be total strangers if it weren't for my time on-air. Ultimately, I work for a show that focuses on things I'm interested in, and so connecting with this audience is connecting with people who share many of the same passions. I've been connecting with my tribe for the two-and-half hours I'm on air every weekday morning, and I will genuinely miss that.
So what's next? Well, back to where I was supposed to be all along. I am still in Prince George, still with CBC, and still working on Daybreak North. I will once again be an associate producer, tracking down stories, researching topics, and crafting the most compelling bits of radio I can. I hope you'll tune in.
Note: this change happening at the same time as the equivalent of 657 positions are cut at CBC is entirely coincidental. I've known my time as a host was coming to an end for a long time, the news of today is completely unrelated. As for the future of both my job and CBC in northern B.C., I will direct you to these quotes from CBC management: "CBC/Radio-Canada will maintain its presence and news-gathering capabilities in the regions", and "We will retain our presence where we are now." For more information, see here and here.