ICYMI
One of the trending topics on Twitter right now is #2014In5Words. My choice:
"In Case You Missed It".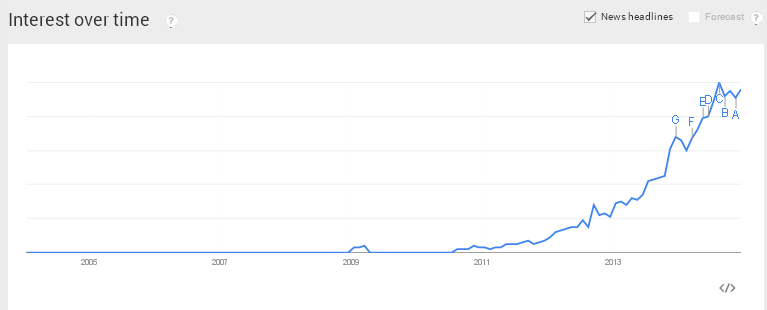 Google searches for ICYMI since 2004
If you're unfamiliar with the term, ICYMI is primarily found as a prefix to a Tweet or Facebook post. It's used when someone is re-posting something they shared earlier- the acknowledgement that yes, you may have seen this before, but I'm posting it again in case you missed it.
I think of ICYMI as the flipside of another term created by social media: FOMO, or Fear Of Missing Out. Just as FOMO describes the anxiety people have that they'll miss someone else's awesome thing, ICYMI comes from the fear that other people will miss our awesome thing.
Once upon a time I would write a blog post like this one and just assume people would see it. They had bookmark bars or RSS readers that they used to catch up on stories from a few people they were interested in. Maybe they'd come every day, maybe every week, but they'd come without me having to work too hard for their attention.
In 2014, that version of the internet is gone. More and more news organizations and independent outlets are building their strategies around pushing their content to people on social networks, primarily Facebook but also through Twitter and others. And posting just once isn't enough. Facebook's ever-changing algorithm and Twitter's lightning-fast speed means you have to be strategic: post at the right time, with the right headline, reaching the right people. Screw up and few people will see it and even less will pay attention. In Case You Missed It is a way of hedging your bets.
There is a backlash to all this. The slow web movement, exemplified by the things like email newsletters, ~tilde.club and even a return to personal blogging are all driven in part by the desire for those quieter days when we could hear and be heard without being drowned in a series of quizzes and listicles and photos of puppies.
But the audiences for those quiet parts of the web is low compared to the carnival going on elsewhere. If you have a thought that goes beyond 140 characters, put it in a Twitter essay or screenshort because lord knows no one's leaving the stream to spend any time digesting what you have to say. And if you're posting something on Facebook, put as much information as possible in your headline because that's all most people will read anyways.
At the beginning of this year, I took on my most ambitious creative and journalistic project yet. Hours of interviews, archival tape, stories and sounds, painstakingly edited together over the course of weeks to create a radio series that is probably my proudest professional achievement. When it was all packaged up and ready to be heard, I put it online and then I posted it to Facebook, Twitter, and Tumblr where it was up against memes and selfies and breaking news. I had no guarantees that even the people who had chosen to follow me on Twitter or were my friends on Facebook would see it because things just go by so fast.
So throughout the year I posted it again. And again. And again.
In case you missed it.