Almost Mainstream: The Best of 2014 Mixtape
In my basement, I have a whole pack of mixtapes I made when I was younger. At first I just recorded stuff off the radio, but when I got older I figured out how to feed the TV audio into our tape machine and was able to get stuff off of MuchMusic, as well.
I would usually divide the tapes up by their source: pop (the top 40 station), rock (the alt station), indie (the Wedge, Going Coastal) and hip-hop (RapCity).
This was a good system for when I could pack all my tapes around, but every once in a while I'd be going somewhere space was limited.
When a trip like that was coming up it was time to make a best of tape: a combination of tracks from across genres, dubbed from my collection into one master mix.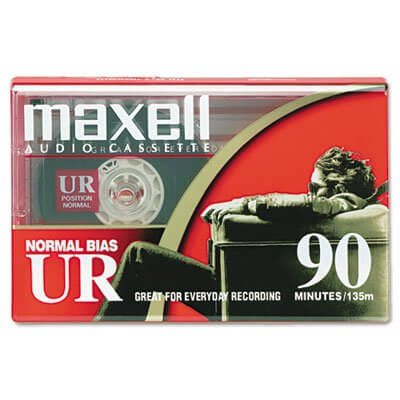 I found the best formats for these mixes were the 90 minute ones – 45 minutes on each side. A good long listen, but not so long that you would never listen to it more than once.
So anyways, here's what one of those mixtapes would sound like if I were to make it today, using my favourite tracks of 2014 as a start point. Enjoy.
Almost Mainstream: the 2014 Mixtape
(please note: I've put streams of individual tracks below, but the best way to listen to this is by streaming or downloading the full mix above)
Tracklist:
Side A
Hero – Frank Ocean + Mick Jones + Paul Simonon + Diplo
Hero (feat. Frank Ocean, Mick Jones, and Paul Simonon) | Listen for free at bop.fm
Remember when people would get upset about musicians "selling out" and artists would worry about being used by corporations? Thank goodness those days are over because then we would never have this Converse-backed track that combines the percussion section from the Clash with left-field R&B singer Frank Ocean and master producer Diplo. If pressed, I would probably choose this as my favourite song of the year.      
Bennie and the Jets – Miguel feat. Wale
Bennie And The Jets | Listen for free at bop.fm
When this came out back in March, I though there was no way it would work. When I listened to it I thought I liked it, but figured there was no way it would be good once the novelty wore off. Nine months later, still one of my favourites.
Cherry Licorice – The Felice Brothers
Cherry Licorice | Listen for free at bop.fm
"I don't care if it sounds ridiclis" is maybe my favourite lyric of the year.        
Left Hand Free | Listen for free at bop.fm
I know they consider it something off a joke. I know they only released it because their label wanted a big radio single. But you know what? I like big radio singles.
Inside Out | Listen for free at bop.fm
Like many, I was first turned on to Spoon by the O.C. soundtrack. Since then, I've been a fan of many individual tracks, but haven't gotten into an album before this year's They Want My Soul. "Rent I Pay" was my favourite off of the album, until I listened to this podcast about how the band used Dr. Dre's 2001 as inspiration for "Inside Out". Dreamy, ethereal, and just a little hood.    
Coast Is Clear – Skrillex feat. Chance the Rapper
Coast Is Clear | Listen for free at bop.fm
I have no real problem with Skrillex, but this sounds nothing like a Skrillex song- just like Chance the Rapper being very straightforward in a cheezy hotel lounge.
Turn Down For What – DJ Snake feat. Lil Jon
Turn Down For What | Listen for free at bop.fm
There were lots of big dumb pop songs I liked this year – Fancy, Problem, Anaconda, Shake It Off – but none were quite as big or dumb as this.    
Cadillac Girl | Listen for free at bop.fm
I know next-to-nothing about this song or artist – I assume it's British based on the accent- but this track has been on repeat since I discovered it on Soundcloud. I haven't heard talk-rapping this catchy since 1998's "You Get What You Give".
Magic | Listen for free at bop.fm
I think "Yellow" is a great song. It's jangly, catchy, and hopelessly romantic. Over the years, Coldplay have gotten further from that version of themselves, pursuing stadiums and "seriousness", and I've progressively lost interest to the point I can't name a single song off their last three (four? five? I don't know how many they've put out) albums. But this is one of my favourite tracks of the year and one of the band's top five, ever. It's the perfect bookend to "Yellow" – the band uses drum machines now, and a relationship is ending, but they still believe in magic.    
"I believe that For McMurray is the most interesting and most important thing that's going on right now," said Kate Beaton in her interview with Jesse Brown. "Right now it is like the pan-Canadian experience in a way, because almost all of us know somebody who's working in the oil sands." Like the oilsands, this song is a pan-Canadian experience: originally by a Winnipeg songwriter, it was popularized by a Toronto one and now, for my money, has found its home with Prince George's Scott Dunbar. Dunbar has spent much of the last two years as fly-in, fly-out worker of sorts, couch-surfing across the country and recording multiple albums along the way. His gravelly voice and the chain/suitcase percussion used as part of his one-man-band act are the perfect complement to this song about "Fort McMoney": part campfire jam, part cry for help.    
Old Thing Back – The Notorious B.I.G. feat Ja Rule – Matoma Remix
Old Thing Back | Listen for free at bop.fm
Another year, another B.I.G. remix. Remember Ja Rule?
Side B
Jealous | Listen for free at bop.fm
Usually when I do my end-of-year listening to other people's list, I discover some under-the-radar band or the next big thing from some obscure country. This year I discovered "Jealous" by Nick Jonas thanks to Said the Gramophone, and it's been in my head since.
Wish You'd Met Me First – Maiday
Wish You'd Met Me First | Listen for free at bop.fm
Unrequited love is a common theme in pop music, but it rarely sounds as devastating as this. Unlike "Someone Like You", no one is going to mistake this for a wedding song.
One Time | Listen for free at bop.fm   
Marian Hill is an electronic duo from Philadelphia, but I don't know if "electronic duo" really does them justice. Lots of horns, lots of hooks. Well worth following.
Move That Dope – Future feat. Pharrell, Pusha T, and Casino
Move That Dope | Listen for free at bop.fm
Stark, hard, catchy.
Friday Fish Fry | Listen for free at bop.fm
I would have never expected the classic soul/blues song of the year to come from Kelis, but here we are. Wish I had the pipes to sing along.    
Archie, Marry Me | Listen for free at bop.fm
This has become the de facto indie pop-rock song of the year, but it deserves it based on the "hey hey" alone.
Almost Like the Blues – Leonard Cohen
Almost Like the Blues | Listen for free at bop.fm
Cohen's voice has gotten better with age, the years adding gravitas to his lyrics of burned villages and bad reviews alike.    
Kendrick Lamar didn't put out an album this year, but he didn't really need to – this Isley Brothers sampling track was worth listening to again and again.
Stronger Than That | Listen for free at bop.fm
Bahamas is one of those artists that I just like listening to. Bahamas is Alfie was my default "company is coming, I need some pleasant background music" album, and people always asked who they were listening to.    
Goodbye Weekend | Listen for free at bop.fm
Salad Days is my favourite album of the year, and this song captures what I like about – disorienting and dreamy all at once, probably tossed off on a not-very-well-tuned guitar. Also, I once brought Mac de Marco's band to town when he was still a teenager and being an opening act for university shows, so that's kind of cool.
Run From Me | Listen for free at bop.fm
Like Bahamas, Timber Timbre is one of those bands that I just like to listen to- aesthetic, plus songwriting. It was either this or "Hot Dreams" to go on this mix, and this one fit better.    
Ride Wit Me – Nelly – Viceroy "Jetlife" Remix
Ride Wit Me | Listen for free at bop.fm
At the beginning of the year, I saw a party band go through a range of crowd-pleasing covers: Paul Simon, The Fresh Prince theme song, and "Ride Wit Me". Then, there was this ridiculous Honey Nut Cheerios commercial. By the time this Viceroy remix came out it was clear: "Ride Wit Me" is the officially repatriated pop song of 2014.