Why all those headlines about Aboriginal women knowing their killer are a little misleading
Aboriginal women and girls are more likely to be killed, but spouses or family members are less likely to be involved than in the homicides of other Canadian females. But that's not in the headlines.
(Note: I've updated and clarified the rate of family involvement in the section labelled "asterisk two")
On Friday afternoon, the RCMP delivered an update on their work on missing and murdered Aboriginal women in Canada.
Afterwards, here's what the headlines said.



(CTV, CBC, and the Globe and Mail)
I want to talk about why these headlines can be misleading.
The context
There are a number of Canadians calling for a national inquiry into the number of missing and murdered indigenous women in Canada (#MMIW is the hashtag on Twitter), and the Harper government isn't interested, preferring to treat these cases the same as as any other crimes. Last year, Aboriginal Affairs Minister Bernard Valcourt told the Ottawa Citizen that Aboriginal communities have to take a greater responsibility for MMIW:
"Obviously, there's a lack of respect for women and girls on reserves," he said. "So, you know, if the guys grow up believing that women have no rights, that's how they are treated."
So there's a backdrop to this – a debate over whether MMIW are a national issue to be tackled by a federal initiative, or something more domestic. The media plays a role in shaping the public understanding and conversation around these issues.
Asterisk one: this only applies to cases that have been solved
I'm going to start with the headline from the Globe and Mail proclaiming that "All native women killed in past 2 years knew their killer" because that one is unknowable, and very possibly out-and-out false. The exact statistic is that Aboriginal women knew their killer in 100% of the cases that have been solved in the last two years. With 32 new homicides in 2013-14, there are still 6 unsolved cases where the victims may or may not have known their killer. To say "all native women knew their killer" misrepresents the information. Update: the Globe has now changed their headline to read "Native violence starts at home").
Asterisk two: Aboriginal women homicides are less likely to involve spouses or family than non-Aboriginal homicides
While other headlines didn't focus on the "knew their killer" angle, there is a focus on the "family violence" and "someone they knew" angle. While these angles are true, they are still worth examining.
Of the 26 solved homicides involving Aboriginal women in 2013-14, family members or past or current spouses were involved in 73 per cent of the cases.
Unfortunately, I don't have the numbers for non-Aboriginal women for the same years, but the report does outline the rates from 1980-2012, which you can see in the graph below:
Offender-to-victim relationship, female homicides, 1980-2012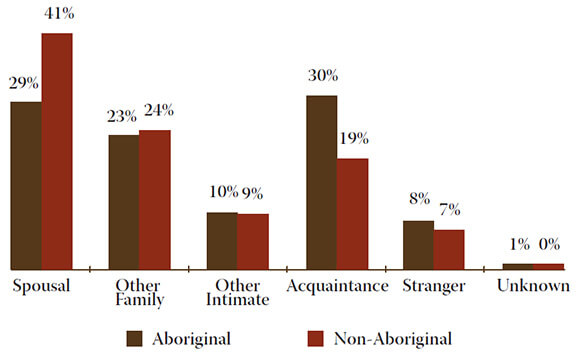 In that time period, past/present spouses, family members, or "other intimates" were involved in 62 percent of the homicides of Aboriginal women so, yes, it is fair to say there is a link. But those numbers are even higher for non-Aboriginal women, where spouses/family/intimates are involved in a full 74 percent of the cases.
So while it is accurate to say there is a link between the deaths of Aboriginal women and their families/home life, it is inaccurate to imply that that linkage is higher amongst Aboriginals than it is in mainstream society, or that the higher homicide rate among Aboriginal women is entirely attributable to family violence.
Note: In an earlier version of this, the language I used in this section was Aboriginal women and girls are less likely to be killed by spouses/family. However, given that Aboriginal females are homicide victims at 4x the rate of other females in Canada, it means that even though a lower percentage of those homicides involve spouse/family/intimate, there are still more Aboriginal women who are victims of those forms of death than other women – basically, Aboriginal women are more likely to be homicide victims by any means, simply because they are more likely to be homicide victims. However, the likelihood that spouse/family/intimates are involved in any given homicide increases if the victim isn't Aboriginal.
Asterisk three: "acquaintance"
The category where Aboriginal women are represented at levels of more than one percent higher than non-Aboriginal women is in deaths associated with "acquaintances". And once again, let's read the fine-print, in this case a literal footnote from the report:
"The acquaintance category can be broken down further to include close friends, neighbours, authority figures, business relationships, criminal relationships and casual acquaintances. (i.e. a person known to the victim that does not fit in the other acquaintance categories)."
That's a pretty broad category that includes people that you see taking out the trash, a grocery store clerk you see on a semi-regular basis and, as was pointed out in the news conferences, sex workers who "know" their johns:
Under that definition, here's a few examples of Aboriginal women who knew their killer:
When Loretta Saunders went to collect rent from her subletters, she knew her killers:
"When Saunders, who had moved in with her boyfriend, arrived at the apartment to collect the rent on Feb. 13, 2014, Leggette decided to kill her, according to his journal.

Leggette wrote that Saunders, a 26-year-old student at Saint Mary's University, was "getting annoyed" and asking whether the rent money was available. As Saunders sat on the couch, Leggette said he went into the room he shared with Henneberry and asked, "Should I do it?"

Henneberry told him he didn't "have the balls," which made him angry, Leggette wrote. He walked over to the couch, grabbed Saunders by the throat and began choking her. He wrote that he tried to suffocate her with plastic bags, but Saunders tore through them.

He then hit Saunders' head on the floor twice and she stopped moving."
When Natasha Montgomery and Cynthia Maas, respectively, encountered Cody Legebokoff for the last time, they knew their killer:
"Cynthia Maas, 35, was last seen September 10, 2010 and her body was found in a Prince George park the following month. Maas, died of blunt-force trauma to the head and penetrating wounds. She had a hole in her shoulder blade, a broken jaw and cheekbone, and injuries to her neck consistent with someone stomping on it.

"Natasha Montgomery, 23, was last seen August 31 or early September 1, 2010. Her body has never been found but her DNA was later found in samples taken in Legebokoff's apartment.

"The Crown has said Stuchenko, Maas, and Montgomery had worked in the sex trade and that Legebokoff was addicted to cocaine and used sex workers to get him the drug."
And when sex worker Cindy Gladue met Bradley Barton a second time, she knew him:
"Gladue, a 36-year-old mother of two, bled to death from an 11-centimetre wound in her vaginal wall. Arguing that the wound was caused by a sharp object, the prosecutors made a controversial decision to submit Gladue's preserved vagina as evidence in the courtroom.

The defence argued that Gladue's wound was caused by rough, consensual sex and that Barton had no intention to harm her. He was found not guilty of first-degree murder."
So when the headline says "Aboriginal women most frequently killed by someone they knew", it's true, but it's also important to understand just how broad that definition is.
Why this matters
Many people get their news from headlines, even if they don't read the articles. Want proof this happens? Last year, NPR posted an article asking "why don't people read anymore?" only to have many, many people on Facebook and Twitter tell them that this isn't true, they read all the time. The trick? The article itself was actually an April Fool's prank testing to find out how many people would respond to the headline without reading the text.
I myself have had the experience (many times) of writing or posting a piece online only to have people respond or ask questions in a way that makes it abundantly clear they didn't actually read the article, they were making assumptions about the world based on the headlines.
And even in cases where people read the articles, headlines shape the way those articles are read. Studies have found that even when the information in an article contradicts the articles headline, the headline plays a major role in what people remember after reading the article.
As I said at the outset, these stories are being written against the backdrop of a very public debate about Canada's relationship with indigenous communities. We just had the Truth and Reconciliation report that, among other things, called on media to more accurately reflect the experience of Aboriginal people. We have calls for an inquiry into MMIW in Canada. And we have these statistics: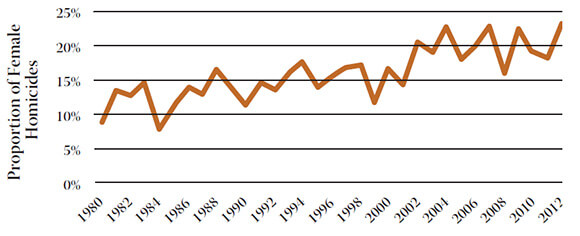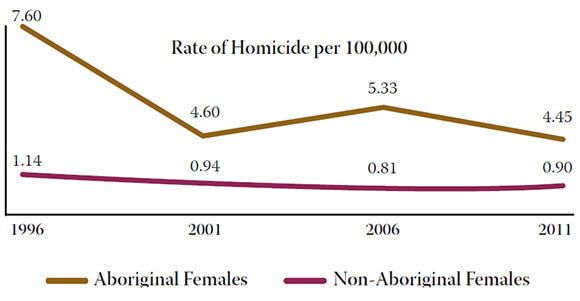 Using the most recent statistics, Aboriginal women and girls are more than four times more likely to be killed than non-Aboriginals. As a proportion of female homicides overall, the number is climbing. When Aboriginal women are killed, it is less likely to be by a spouse, family member, or other intimate than it is for non-Aboriginal women.
Ask yourself: is that story being told in the headlines?