The year Prince George got its swag on
Maybe it was the winter games. Maybe it's the centennial. Maybe it's the fact that the Cougars have a new set of owners. I don't know what it is exactly, but somehow it feels like the city of Prince George has changed this year.
For whatever reason, there seems to be a general sense of "yeah, we got this" going on. Last night I went to an art opening that was devoted to exploring Prince George's visual identity. And it was packed! People were interested in the city's culture. Then after that I went to Nancy-O's and it was packed, too! And it was a Thursday!
I think that's a big part of it. Just a few years ago, event organizers were always lamenting how Prince George was a "last-minute town", meaning that you could never tell if something was going to be successful until the day of because people were so unwilling to commit to actually going to anything.
That is no longer the case. When the Kiwanis Club decided to hold an AleFest, tickets sold out months in advance. Judy Russell's production of "The Sound of Music" was so popular they added extra shows, and they sold out, too. I got the last two tickets to a Saturday matinee of a musical in the middle of the summer – and I bought them a week early. It's a hard thing to get your head around, if you're from here – people are enthusiastically going out and supporting things to the point that "sold out" and "packed" seems to be more of a norm than an exception. The idea that you could hold two successful artistic endeavours in a single night was basically unheard of. Now it's just another Thursday.
And it's not just that. I've been working downtown for about five years now. Used to be I would go for a walk on a break and see virtually nobody. Now it doesn't matter where I head, there are people there. Don't get me wrong, it's not like we're in Toronto or something, but the city streets aren't lifeless. People are eating on patios. The revamped Canada Games Plaza more often than not has kids playing there, or someone sitting on a bench reading a book or sketching. There's public space, downtown, and it's being used.
If I had to put a word to it, I'd say there's a sense of maturity. In various things – the name change of the park being the most prominent – it seems like a critical mass of the city's populace has moved to a certain level of thoughtfulness about what kind of place we want to be and what it will take to get there. It's an acknowledgement of flaws while still agreeing that there is good reason to be here and the solution is not to complain or abandon the city, but adapt it.
This image from last night's Hometown Project captures what I'm trying to say: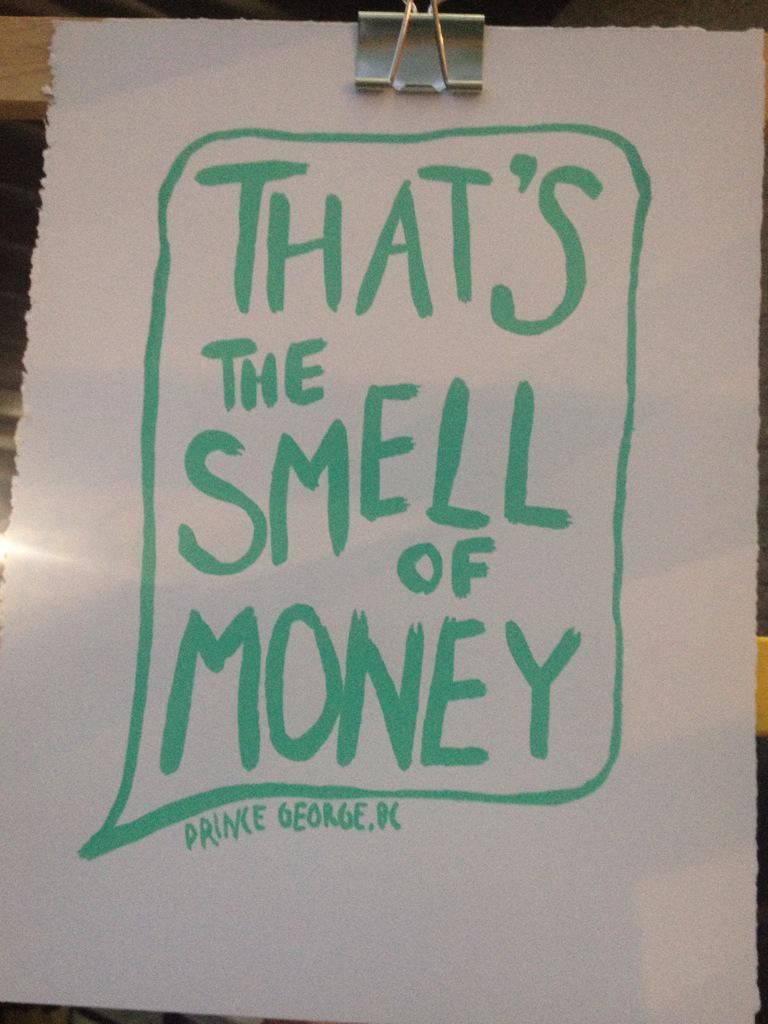 For better or worse, the defining characteristic of Prince George to the outside world remains the smell associated with the local industry. There has been a long and at times heated battle between people who've wanted to improve the air quality and the people who are more concerned with the jobs that might cost. "That's the smell of money" was a shorthand way of dismissing the debate – to the people saying it, a sense of "what ya gonna do?" To the people hearing it, a roadblock thrown in front of their hoped-for improvements. And to the outside world, the smell is a shorthand way of dismissing the city as a whole.
This image captures all that. It acknowledges the smell and the associated problems, but also embraces it as something that makes here here. It's not against getting rid of the smell, but it's not against the smell, either, if that makes any sense (there's a reason why I'm not an art critic). The point is: this image showcases a love of the city by exploring one of its major flaws. And it's fun, too.
*  * *
I mean, I'm sure this has always been here, to an extent. Probably the critical mass that I'm feeling has been felt before. And, no doubt, there are people who think I'm completely out to lunch and this place is terrible.
But I don't know. I've always liked it here. But this year, for whatever reason, I like it better than ever.