Almost Mainstream: The 2016 Two-Disc Mix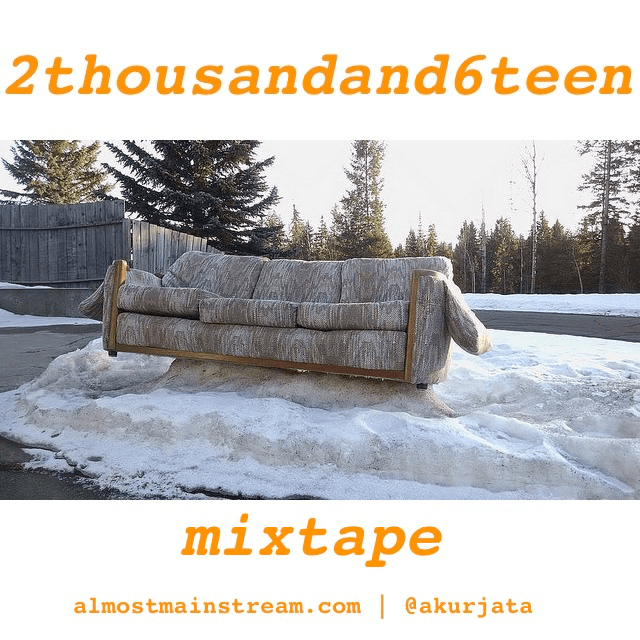 This year my listening habits were torn in two directions. On the one hand, my switch over to Spotify after the death of Rdio had me listening to a lot more single tracks. Discover Weekly is a pretty darn good tool– every week, a mix of 30 new tracks I haven't heard before, tailored to my listening habits. Add things like Daily Mix and Release Radar and I could easily do nothing but listen to algorithmically-generated playlists.
On the other hand, with the deaths of career artists like Leonard Cohen, Prince, David Bowie and the stark reminder of Gord Downie's mortality, I found myself gravitating towards wanting to spend time with albums and discographies of music I might want to return to, again and again, rather than chasing the hit of whatever's new.
This year's mix is a reflection of both these impulses. About half the tracks are by artists I was already familiar with, who put out new work this year. About a quarter are by artists I wasn't familiar with but who I am now interested in following where they go next. The rest are just really good songs that came my way.
As far as format goes, I decided to go with a mix that would fit onto two 80 minute CD-Rs, just like the old days. I even threw in a "hidden" track at the end that wouldn't technically make it.
I once again followed the Said the Gramophone rules for year-end lists, which is: every artist only gets one song (with two exceptions, which I deal with below), and the songs are ones that I heard for the first time in 2016- a couple came out at the tail end of 2015, but I didn't catch them then so they are here.
As for other odds and ends, my favourite album of the year was, hands-down, Beyoncé's Lemonade. It's a work of art and an all-time classic.
My other top albums are We Are the Halluci Nation by A Tribe Called Red, Good Advice by Basia Bulat, Anti by Rihanna and Carly Rae Jepsen's Emotion: Side B.
I am still working out how I feel about Life of Pablo by Kanye West, but given that he's released one of my favourite albums of the year almost as many times as he's released an album, it feels worth noting it here.
My favourite live artist was Crones who have advanced to a point in their performance that they should be moving above the 'local artist' stage, imho. 
For the first time in a while, there is no single song that stands out to me as my absolute favourite.
My favourite soundtrack was for 808: The Movie, about the 808 drum machine. It is full of classic hip-hop and dance tracks and introduced me to Cars With The Boom by L'Trimm.
My other favourite musical discovery worth mentioning here is Slip Disc, a compilation of 60's era Indian rock music that I bought at a restaurant in London.
Three songs that came out to early to make this cut but were discoveries for me in 2016 are "Song for Zula" by Phosphorescent (2013), "Journey" by Drishti Beats and "Floors" by Abhi The Nomad & King Sadboy (too early in 2015 to make this cut).
Almost every song I sorta liked this year can be found in this Spotify playlist.
Previous year-end mixes:
2015 | 2014 | 2013 | 2012 | 2011 | 2010
And here's this year's mix:
Disc One
Nostalgia isn't about missing the way things used to be. It's about missing the way we used to be.
waves – Tame Impala Remix – Miguel
waves of sound, get lost in them
Anderson Paak is an artist I was introduced to via an algorithm that turned out to be worth spending time with. Malibu is a top-ten 2016 album and Paak is an artist who I will be listening to whatever comes out next.
Ultralight Beam – Kanye West (feat. Chance the Rapper)
The first exception to my one-track-per-artist rule because 1. "I Love Kanye" is so short and 2. this is more of a showcase of Chance than anyone else. It took me a long time to listen to the rest of Pablo because I kept hitting repeat on this.
If I were really going to nit-pick about the one-track-per-artist rule I would substitute Chance's "All Night" here. It's a lot of fun.
I like the slow burn of this one. Often rock bands using strings and choirs is a sign they've got a bigger budget and lost their creativity, but they are put to good effect here. Reminds me of Exile-era Stones.
I Don't Wanna Be Funny Anymore – Lucy Dacus
I don't actually know anything about Lucy Daus, but this came up in my Discover Weekly early in the year and I keep going back to it. A song about not liking the box you're in.
One of my top five albums of the year, as high as number two, definitely number three. Another track about humour and heartbreak. "Now that we all know the punchline. Can I make you understand?"
You ever notice how the journey home goes so much faster than setting out on a new path?
Select All Delete – John K. Samson
This is a song about the internet but honestly that description makes it sound so bad and that's why Samson is a poet.
It's weird that in a year where we lost both Bowie and Prince we got the 1975, who seem to be an equal mix of Bowie and Prince. I listened to their album quite a bit, and I still can't decide whether they are genius or terrible and I suspect only time will tell.
All The Way Up – Fat Joe, Remy Ma, French Montana, InfaRed
I was at a wedding this summer and when this song came on people danced and sang along and that's basically all it takes to get on here.
One Dance – Drake, WizKid, Kyla
The trouble with Drake is that I could put almost any Drake song on here. So I am starting to have trouble telling whether he is really good at making songs or if he is just really good at making people (myself included) think he is good at making songs.
DJ Snake has actually secretly become one of my favourite artists by just continuously releasing good tracks that I don't know are him until I look at the credits.
TOGETHER (feat AlunaGeorge, Goldlink) – KAYTRANADA
Kaytranada was kind of like water, he was so ubiquitous this year- winning awards, popping up at the top of critics year-end lists, remixing and producing all the top-name artists. I like this track.
I have not followed the story of Gucci Mane. I do not know why he was in jail and I do not know his music enough to get excited about him getting out of jail so he can make more music. But I enjoy this song.
Limoncello – Skratch Bastid, Shad
Anytime Skratch Bastid and Shad work together, it's an absolute delight.
R.E.D. feat Yasiin Bey, Narcy and Black Bear – A Tribe Called Red
Beyoncé and A Tribe Called Red put out my two favourite albums of the year, and for similar reason: there's a vitality to what they have to say, a political urgency, in addition to creating straight-up awesome music. There's a straight line from each going back to Public Enemy and Marvin Gaye: artists with a purpose.
Sila – A Tribe Called Red, Tanya Tagaq
This is the second exception to my one-track-per-artist rule because although Tanya Tagaq put out her own incredibly worthwhile album (top ten), this moment with ATRA is the best showcase of what she has to say.
Slow down and chill.
Time Moves Slow – BadBadNotGood, Sam Herring
Keep chilling.
Anti was the album that moved Rihanna out of the "singles artists" category for me. Though not as fully realized as some of my other favourites, it is definitely more than a collection of songs and it was tough to choose between putting this or "Love On The Brain." Ultimately I chose this because while "Love" is a great showcase of how Rihanna could do classic soul, this is a showcase of what makes her unique to the now.
Drunk Drivers/Killer Whales – Car Seat Headrest
I wasn't aware of Car Seat Headrest or the album Teens of Denial until I saw them come up again and again in other people's year-end lists. I haven't spent enough time with them to know whether this will be a favourite album/artist for me, but what I've heard – a more garage-rocky version of LCD Soundsystem, to my ear- it's worth including.
Broccoli (feat. Lil Yachty) – D.R.A.M., Lil Yachty
End disc one on a celebration.
Disc Two
I usually hate Canadian bands singing about America, but this is the second instance of it I've included on this list.
If this were really a favourite-songs-of-2016 mix virtually everything from Lemonade would be on here. I like this track because it's the moment in listening to the album that I realized "oh, there is something  really special going on here." And it's track two. If you haven't heard Lemonade yet, stop this and go change that.
Frankie Sinatra – The Avalanches
I loved the Avalanches when they released their first album. After so long, I never thought I would hear new music from them. I'm glad I get to, and I'm glad this is it.
Numbers – Skepta, Pharrell Williams
Pharrell knows how to make a heavy beat and Skepta knows how to use it.
Nothing to say about this, I just enjoy this song.
Can't Keep Checking My Phone (SILICON Rework) – Unknown Mortal Orchestra
Same. How's it going?
I find it interesting that whenever I find a good garage rock song, they are from Canada. Are we really the only ones making that much good garage rock? What's happening to Britain and the U.S.?
I'm a little worried that sometime in the future Tegan and Sara's move towards electronic/dance style production will date them, the same way so many sixties and seventies musicians went synthy in the eighties and now it's this weird blight on their legacy. But I'm enjoying it for now.
Talk Of The Town – Jazz Cartier
Great voice.
I don't know what the musical effect is that makes a song sound like it's being stretched out like an elastic, but this does it and does it well.
Bird Song – Blaqstarr Remix – M.I.A.
In other years, I might have thought "eh, this isn't M.I.A.'s best work" and left this off the list, but as I said in the intro, this year I'm doing more appreciating artists for being who they are, not just for being new.
Golden Boy – Elf Kid
"1 Thing" was a jam and I'm glad someone recognized it this way.
Boom.
There's long been a cliché of saying "everything but country" when asked about musical tastes, but in recent years indie rock has been creeping towards country music while mainstream country has been creeping towards classic rock. Whitney is the former, Simpson is the latter (plus, he has the Dap-Kings– Amy Winehouse's band!). Both these albums are great to put on with headphones.
I would actually be happy if Jepsen just kept releasing outtakes from Emotion every few months. This whole EP was great and while a lot of people seemed to have an issue with the silliness of this song- she doesn't want to break up with someone so she's just going to the store and never come back- I still love it.
Starboy – The Weeknd, Daft Punk
Like I said, I don't have a clear favourite for song of the year, but this would be on the contenders list.
Tired As Fuck – The Tragically Hip
You Want It Darker – Leonard Cohen
Two Canadian icons confront mortality. One sweetly, the other dark and haunting. The latter is a fitting sendoff, the former hopefully won't be but if it is, it's a good one.
Part Beatles, part the Flaming Lips, a much needed chaser.
A 1000 Times – Hamilton Leithauser + Rostam
A late addition to this list since I heard for the first time yesterday, but when I found myself humming it this morning I knew I had to leave a spot for it.
OK, so someone outside of Canada is doing garage rock.
Bonus Track
Kissitbetter (Rihanna) – Yellowlunarhuman
Not an official release and technically a Rihanna tune, but funky enough to want to share with you. Nothing else has happened on his Soundcloud page since this came out seven months ago, but I'll keep checking.