At Home in the Hood Podcast: Download Stories from Prince George's VLA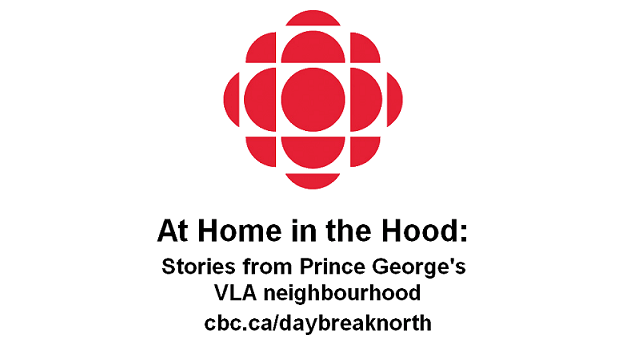 I am incredibly proud to share this.
After recording many hours of interviews and tapes, then spending even more hours cutting those interviews down into individual segments to air on the show, then a few more hours stitching those segments into a whole, I have put together what is the final edition of my first series for CBC. You can stream it below, or download it to your computer or directly in iTunes.
At Home in the Hood: Stories from Prince George's VLA
All told, this is an hour-and-a-half worth of stories from a neighbourhood that by more than one measure is among the worst in British Columbia. Here's the write-up:
"The VLA neighbourhood in Prince George is named after the Veterans' Land Act, and was created as a place for soldiers returning from World War II to make their homes. Today, it has a reputation for crime, gangs, and poverty.

"It has some of the highest crimes rates in the city dubbed "Canada's Most Dangerous" three years in a row.

"It has some of the poorest families in Prince George, and a decade ago was found to be the worst in the province for healthy child development.

"The Fraser Institute consistently ranks schools in the VLA near the bottom of its school report.

"Average home prices are less than half than in other neighbourhoods in the city.

"It also home to many innovative social programs, creative people, and community-minded citizens who are proud to call it home."
The challenge I felt throughout this whole process was balancing those two sides. I didn't want to downplay the very real problems faced by the neighbourhood, but I didn't want to ignore the fact that lots of people absolutely loved the area and had no more complaints about it than anyone in any neighbourhood. Listening to this whole thing, I think both sides are represented.
I have many more thoughts on this that I'll probably write up in the future, but I don't want to put a whole bunch of things here that will cause you to prejudge the podcast one way or the other. So for now I'll just say thank-you to everyone who helped me with this, from my colleagues who contributed ideas and stories to this series, to the people who let me into their lives for a little while to try to represent the neighbourhood, to the people who've contacted me to say they've listened to all or part of this already and enjoyed it.
And it's clichéd, but a special thank-you to my wife who put up with a month of me spending a long day working on this, only to come home and continue to think about edits and making her listen to several versions of the same story with only subtle differences so I could figure out which version of a sentence worked best and whether a musical cue should start now, or two seconds later. She was very tolerant, and her feedback was central to many aspects of the final version.
And now it's done. I'm relieved, and excited for the next big thing. This was exhausting but also energizing to do, and I'm happy it's out there in the world.