Ferrets North Information and Rescue: Glitch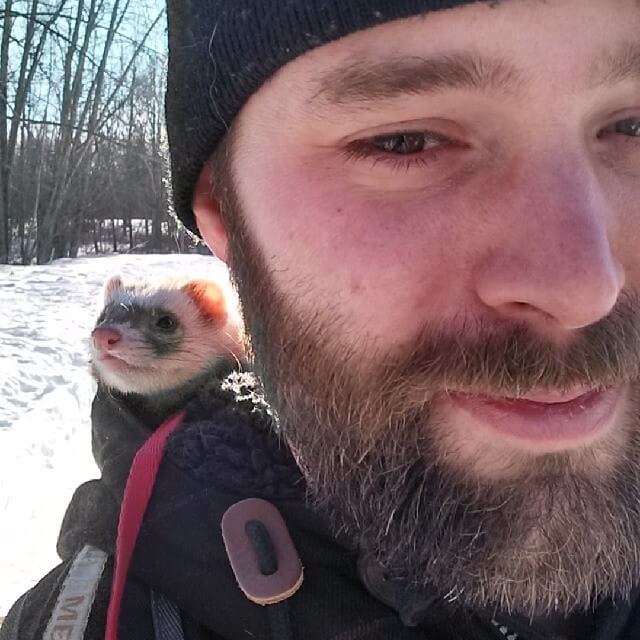 I posted this photo to my Instagram/Facebook yesterday and it is getting a ton of likes and comments so I figured it would be nice to tell the story behind it.
The ferret on my shoulder is Glitch. She came to us a few months ago after she overwhelmed the family she was living with. She had a ton of energy and also a lot of fear, which led to her biting and basically scaring off inexperienced owners.
The reason she came to us is that a few years ago my wife discovered that there was nowhere in Prince George for people to surrender ferrets they could no longer care for. If they were brought to the local SPCA they would be transferred to the Lower Mainland. Consequently, the Lower Mainland had an influx of ferrets looking for a home.
Ferrets are growing in popularity as a pet, but there is a lot of misinformation about them. Many people think they are like looking after a hamster or guinea pig, but the truth is they are much closer to puppies and kittens that never grow out of the puppy and kitten stage. Fun, but a lot of work- so a lot of people give them up.
We didn't have ferrets at the time, but my wife did know about how to care for them since she'd had them earlier in life. So she looked at the options and decided the best bet would be start a non-profit society to 1. try to get people more informed about how to care for ferrets so there would be less surrenders and 2. provide an option for people in northern B.C. to surrender ferrets locally, as well as adopt locally rather than buy new ones from a pet store.
Five years and a lot of work later, Ferrets North is a recognized charity with S.P.C.A.-affiliation. It is a floating shelter, meaning volunteers take pets into their homes to rehabilitate and, if possible, send to a new forever home.
Glitch is becoming a success case. My wife has worked with her patiently, and while Glitch still has a lot of energy, she has largely gotten over her fear. Her biting is nearly a non-issue, and only occurs in times of extreme stress. This walk was another effort to get her used to being out in and interacting with the world.
We have had many ferrets like Glitch. Ferrets who were mishandled either deliberately or out of lack of information and needed experienced owners to help them overcome their issues and move forward. We've also had ferrets who were abused and abandoned. Or ferrets who came from loving homes whose circumstances meant they could no longer afford a pet. In some of the toughest cases we are effectively a hospice for pets on their last legs whose owners don't want to deal with in old age.
I don't want to take much of the credit, because I do very little compared to my wife and some of the other volunteers trying to help. There's lots of good causes in the world and I'm not saying this takes precedent over any other. But it is rewarding when you take a little animal like this one who is absolutely terrified of humans and then see her willing to ride around on my shoulder.
Most of the money raised by Ferrets North goes to vet care for animals surrendered to us: shots, surgeries, medication, and sometimes when it is the kindest option, the difficult choice of euthanasia. If you'd like to learn more you can donate via Paypal and visit ferretsnorth.org.