Almost Mainstream: Songs from 2017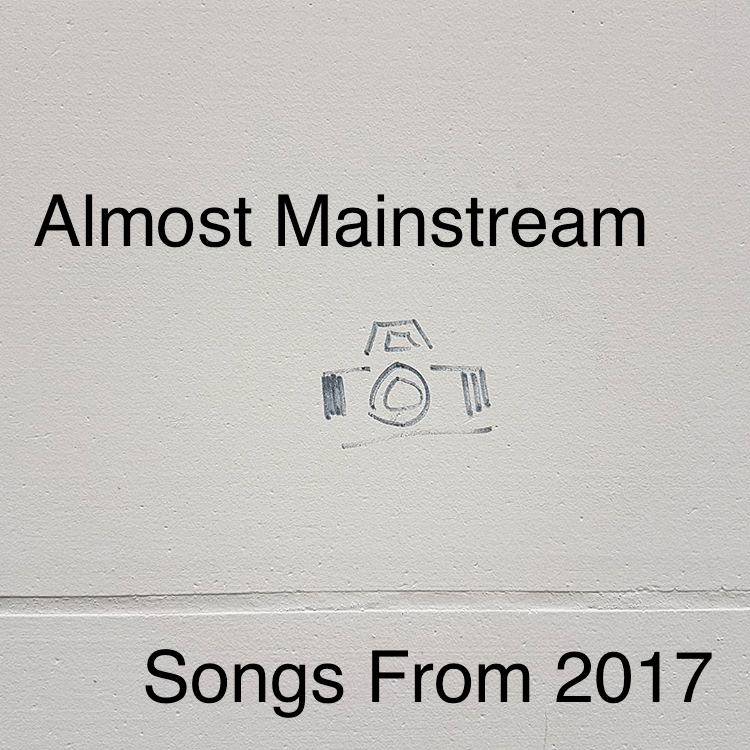 Another year, another mixtape. As I wrote earlier today, I spent less time in 2017 worrying about being a completist and simply spending time with the music I wanted to listen to. This means there are a lot of albums and songs that I'm sure are very good that I simply didn't here, which is why I've dropped any pretence of this being a "best of" list.
Instead what we've got are 65 songs that found their way to me in some form or another and made enough of an impression to stick. Some are favourite artists who released new material I liked. Some are new bands I discovered live, or listening to college radio stations, or flipping through Spotify. Some are simply big blockbuster songs that made up the soundtrack to good days I had.
This is still stripped down– the original longlist was around 200 tracks, so this does represent a curated view. I have, as always, followed the Said the Gramophone rules for year-end lists which is that these are songs I heard for the first time in 2017, and no artist is to appear more than once (the exception being DJ Khaled because I didn't actually realize until after I was done this that both "Wild Thoughts" and "I'm The One" were from his album– I had attributed them to Rhianna and Justin Bieber, respectively. Since he is a producer, I think it's fair?)
Anyways, these are the songs. If you are interested, my favourite albums of 2017 were:
Arcade Fire's Everything Now;
Lorde's Melodrama;
Snotty Nose Rez Kids Snotty Nose Rez Kids and The Average Savage;
Spoon' Hot Thoughts; and
Joey Bada$$'s All-American Bada$$
Memorable concerts included seeing Carly Rae Jepsen perform with the Toronto Symphony Orchestra; finally seeing Arcade Fire, who lived up to the hype; a tribute show to Prince George singer-songwriter Raghu Lokanathan; and discovering the powerhouse that is Kitty and the Rooster when they performed at the Prince George Legion.
Other great local/regional acts who I saw once or more were Twin Peaks, Black Spruce Bog, Amy Blanding, Britt Meierhofer/Nathan Kelly/Crones, Frontal Lobotomy, Naomi Kavka, and Kym Gouchie.
I also saw Weezer, who were the first band to perform precisely as they sound on record with little to detract or enhance, Bob Dylan, who was played jazz standards and sounded nothing like on record, and Vanilla Ice, who was the strangest show I've seen in my life.
Anyways, here is my mix this year. It is 65 songs that come out to about an hour each, which means they could fit onto a single CDR or cassette tape if this were olden times. As it is you can stream the whole thing below, or find the playlist sans a few tracks on Spotify. I've denoted local/regional artists that you might not otherwise hear about with a †.
Previous year-end mixes: 2016 | 2015 | 2014 | 2013 | 2012 | 2011 | 2010
Side A
Weaves – Slicked
Selena Gomez – Bad Liar
Tove Styrke – Say My Name
Tennis – Ladies Don't Play Guitar
Black Spruce Bog – Coyodel, No. 1 †
The Hold Steady – Entitlement Crew
DJ Khaled, Rihanna, Bryson Tiller – Wild Thoughts
Harry Styles – Sign of the Times
Kendrick Lamar – HUMBLE.
Lorde – Green Light
Buffy Sainte-Marie & Tanya Tagaq – You Got To Run (Spirit of the Wind)
Future – Mask Off
JAY-Z – The Story of O.J.
Vivek Shraya – Girl It's Your Time
Destroyer – Tinseltown Swimming in Blood
Colter Wall – Thirteen Silver Dollars
Side B
Jamie Bell – Drink Hard †
Spoon – Hot Thoughts
The Shins – Mildenhall
Gorillaz – Let Me Out (feat. Mavis Staples & Pusha T)
Arcade Fire – Everything Now
Carly Rae Jepsen – Cut To The Feeling
The Blaze – Virile
Snotty Nose Rez Kids – Skoden Remix [feat. Drezus] †
JB the First Lady – O.O.T.G.
Milk & Bone – Daydream
Kitty & The Rooster – Paid a Million Dollars (To Live Like You're Poor) †
Felix Cartal – Get What You Give
Jessie Reyez – Figures
Broken Social Scene – Hug Of Thunder
Courtney Barnett & Kurt Vile – Continental Breakfast
Émile Bilodeau – Hockey
Side C
Arkells – Knocking At The Door
Dirty Projectors – Little Bubble – edit
Weezer – Feels Like Summer
Rhye – Summer Days
Kiiara – Whippin' (feat. Felix Snow)
Timber Timbre – Velvet Gloves & Spit
The xx – Say Something Loving
Joey Bada$$ – TEMPTATION
Zedd – Stay (with Alessia Cara)
HAIM – Want You Back
The Rural Alberta Advantage – Beacon Hill
Charli XCX – Boys
Bonzai – I Feel Alright
Whitney – Gonna Hurry (As Slow as I Can)
Bahamas – Way With Words
Daniel Caesar – We Find Love
Kym Gouchie – Cleansing the Highway †
Side D
Drake – Passionfruit
Wolf Alice – Don't Delete The Kisses
Japandroids – North East South West
Swanes – Cheap Shots and Two Dollar Beers
Serena Ryder – Electric Love
Ed Sheeran – Shape of You
Shawn Mendes – There's Nothing Holdin' Me Back
DJ Khaled, Justin Bieber, Quavo, Chance The Rapper, Lil Wayne – I'm the One
Lights – Giants
The Weather Station – Thirty
The 1975 – By Your Side
Dead Obies – Allo Allo (feat. Naadei)
Bleachers – Hate That You Know Me
Big Boi – All Night
Hamilton Leithauser, Angel Olsen – Heartstruck – Wild Hunger
Frontal Lobotomy – Just As Close to Nothing †